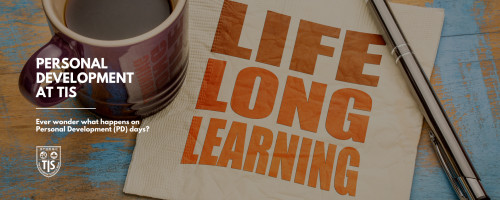 Teacher to Teacher: What Happens on "PD days"?
Ever wonder what happens on Personal Development (PD) days?
While some students may think that it is a heavenly gift from the school gods granting them a long weekend to play and relax, it is still a day of learning - for our teachers (but it really is for our students…more on that later).
PD days are as important for our teachers as it is for students who benefit from them becoming better and stronger educators. Through interactive, collaborative, hands-on activities, PD days empower teachers to teach and learn alongside their peers, deepen their knowledge, improve their practices and thus, student experiences.
Our educators share knowledge because they thrive on elevating students' lives, helping strengthen the community and inspiring a passion for learning. And when teachers from different levels of backgrounds, divisions and subject areas work together to grow their skills, they build a rich community of lifelong learners passionate about teaching and learning and teaching how to learn.
Staying in-the-know with educational trends, tech, new findings and methods, improves our teaching and learning approaches. But surely you can recognize that the way we taught and learned a decade ago is not the same as how we do it now. That's why it is important to keep gaining knowledge in our fields.
Focused on building knowledge through instructional practices, collaboration and communication, with teachers inspiring teachers, PD days help unlock innovation and the passions of lifelong learning. Teachers build positive relationships with each other while deepening the knowledge in their fields or finding new passions and discovering technologies available to them at school.
How do students benefit from PD days? Integrating what they learned during PD day into the School's curriculum, materials, existing lesson plans and assessments, improves student performance and inspires them to become lifelong learners, too.
Collaboration Is the Key to Innovation
On this year's first PD day (4 November), Drama teacher Mr. Ferlisi, Music teacher Ms. Chu and Art teachers Ms. Janveaux and Ms. Campre turned into "makers" for a day. We found these makers exploring the Innovation Lab, the "turf" of our coffee enthusiast and TIS's in-house "robotech." But, there are no territorial disputes here. There is no room for frontiers in this school. So, instead, the floor was shared with Multimedia teacher Ms. Irvine and STEAM Integration Coordinator Ms. Fenwick-Ross. Together they shared with these overgrown students (the teachers) what they could do with the tech available in our School. A brilliant day of collaboration with hours of planning and getting their hands "dirty" resulted in the discovery of different materials in different applications through experimentation and technology.
"Learned about the new equipment in the Innovation lab and being makers for the day! - Ms. Janveaux
The key of this experience was to look "at all the ways we can create experiential learning experiences for our students" - Mr. Thorne
On the other hand, the Science department swapped white coats for parkas and goggles for binoculars! What were they goggling at? On a field trip to the Mangroves, the team focused on bringing global issues to a local context. The key of this experience was to look "at all the ways we can create experiential learning experiences for our students," as said by Mr. Thorne. A special thanks for Karen Tagulao (Senior Lecturer, Programme Coordinator for the Bachelor of Environmental Sciences at the University of Saint Joseph) who shared with the team some findings of her research and the role of Mangroves in our ecosystem. Karen's latest research project has been focused on Nature-based solutions for a cleaner and safer Macao.
And, in the Early Years, "Visible, Valuable and Varied" were the words used by Kindergarten Vice-Principal, Mrs. Schmidt, to describe this years' assessment. Together, our Kindergarten teachers discussed and shaped teaching and learning experiences for each student based on the knowledge that is documented in the daily assessment. This provides an invaluable guide for teachers and parents to challenge and support the child's individual needs, and ensure that as a team of educators, your children are given the opportunities to learn new skills and acquire knowledge.
"Visible, Valuable and Varied" - Mrs. Schmidt
There was so much more to learn so here is a sneak peak at the different PD's our teachers participated in!