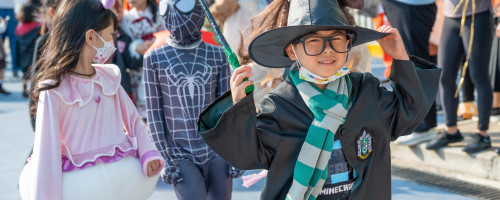 Happy Howl-oween from TIS
The International School of Macao (TIS) hosted the monthly Dress Down Day, on the 28th of October, with Halloween being the chosen theme. Students, teachers and staff were all encouraged to dress in their spookiest costumes, with witches, ghosts and pirates among the most popular.
The School commenced festivities by decorating the Secondary halls in spider webs and white sheets. Skeletons and jack-o'-lanterns could be found hanging about and red paper taped to the ceiling lights gave a truly frightening crimson glare.
Halloween Competition
Weeks of work came to fruition as three dedicated classrooms won "Best Decorated Door." This competition was held between all elementary classrooms in three distinct categories: Spookiest, Original and Do It Yourself (DIY). The homeroom doors were judged by the School's Elementary Vice-Principals and the STEAM (Science, Technology, Engineering, Arts and Mathematics) Integration Coordinator, with the lucky winners getting a tasty treat!
With a fun-filled Friday, it is clear to see why TIS chooses to host Dress Down Day once a month. Stepping away from the everyday uniform isn't merely a fashion choice. It is much more than that. It is a way for students to express themselves and celebrate their individuality, boosting morale and facilitating socializing between peers.
These valued traits are part of TIS's holistic education for student excellence, an approach that takes into account all aspects that make students strive in life, both academically and personally. These include their physical, mental, social and emotional wellbeing, which are essential to cultivate problem-solvers that can think critically and make positive changes in the world.
"The highest function of education is to bring about an integrated individual who is capable of dealing with life as a whole." - Jiddu Krishnamurti
As the day ended, with little werewolves turning back into students, the spirit of community and solidarity that washed over all of those in attendance was evident. By taking this integrated approach TIS can uplift students to achieve truly remarkable things. By providing a safe and caring environment, students can flourish and develop into the best version of themselves, becoming successful in their chosen fields and in their lives outside school.