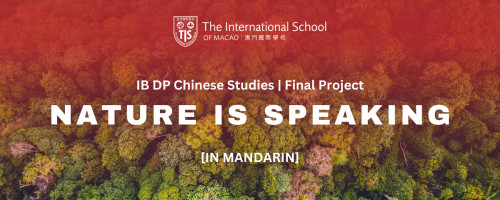 Nature Is Speaking [in Mandarin]
Nature speaks in endless tongues, but unfortunately, it doesn't have a voice of its own: to defend itself from decisions made that affect it. To express its needs and/or preferences it needs a voice. That's why we have to raise ours on its behalf - that's why our students raise their voices.
Encouraged to reflect on the IB theme "Sharing the Planet '' and to address the issues that affect the environment around us, IB DP Chinese Studies standard-level students produced videos their final projects.
As a call to action in protecting our planet, students researched the rights and responsibilities of sharing a world.They reflected on the finite resources that every living being does not access equally. Then they wrote the scripts in Chinese, selected clips and recorded the voiceover in the Multimedia Studio. And the result? See for yourself!
We are proud to share a sample of the impressive work our students produced last academic year, featuring the works of students Jonathan (Grade 12), Eunice (Grade 12) and Cloris (Grade 9).
Throughout their academic journey at TIS, your children are encouraged to build universal skills through an inquiry based programme that helps develop high level questioning, to explore concepts and subjects knowledge in order to be able to reflect, take action and address personal, local and global challenges; and by doing so, discover the path in becoming the most excellent version of themselves.