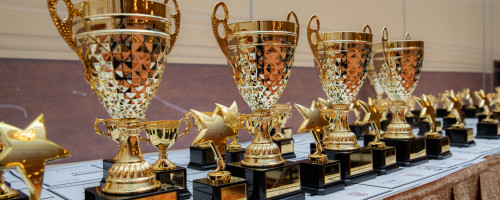 A Year That Knocked It Out Of The Park
The awards table was heavy with trophies as athletes and coaches were dressed to impress. This years' annual TIS Athletic Banquet was held at The Londoner Macao. The room's energy was electrifying as everyone buzzed with excitement to find out who would take home the highly anticipated Athlete of the Year.
Throughout this academic year, we have seen incredible acts of courage, resilience, determined hard-work, and integrity from all of our students. As they create unbreakable bonds with their teammates, they learn to put their differences aside and come together as a unit to lead our School into victory.
Highlights of this year include Group A (U19) Girls Volleyball and Basketball teams both making it to the quarter finals (a first for TIS Girls Volleyball!), High School Boys Soccer being placed 4th in the competition, eSports Team 1 winning the FUSE Cup Asia Grand Final and going on to compete in the Global Grand Final against teams from Australia, Europe and Africa.
It truly fills us with pride knowing our athletes embody the ten Tigers traits and bring it with them wherever they go, making a positive change in their community.
After hearing from the heads of the athletic department, the results for the the Athlete of the Year award in each of the categories were as follows:
Elementary Male Hugo Morgan
Elementary Female Casslyn Lau
Junior Male Lucas Logan-Wright
Junior Female Caia Reichard
Senior Male Nathan Tye
Senior Female Emmi Lai
We are grateful for all of our coaches who support and guide our athletes, helping them reach their full potential. Thank you TIS Tigers for your commitment, sportsmanship and perseverance. It has been a year for the books!

"I've missed more than 9,000 shots in my career. I've lost almost 300 games. 26 times, I've been trusted to take the game winning shot and missed. I've failed over and over and over again in my life. And that is why I succeed." – Michael Jordan