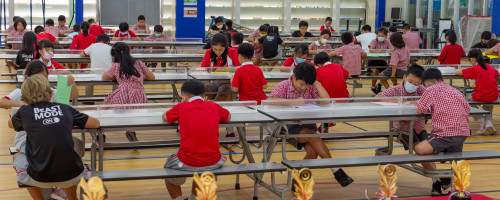 TIS First Math Competition
It's more than just math!
Recently, TIS held its very first Math Competition, involving 100 students from grades 2, 3, 4, 5 and 6.
Just like any other contest, math competitions help build drive, can nurture student interest in this subject and help them practice for external competitions as well. Spearheaded by Elementary Vice-Principal Amanda Kiat, the competition is an important opportunity for students to test their numeracy and problem-solving skills beyond the classroom. Competitions such as this one provide students with creative and out-of-the-routine math problems, offering rich and fun-fuelled challenges.

Developing young talent for math helps steer students towards careers in science but above that, math is used in everyday life, from getting recipes right, to keeping tabs on your budget. Math is used everyday, so it's important to nurture this skill in younger students.
Students had their concentration and estimation tested in a Timed Test, with only 3 minutes to answer 160 mixed addition, subtraction, multiplication and division questions; and Math Concepts which involved number concepts and operations, geometry, pre-algebra, measurement, fractions, and a whole lot of problem solving.
Thank you to all participants and congratulations to the student winners! Here are the results:
Timed Test:
| | | | |
| --- | --- | --- | --- |
| | 1st Place | 2nd Place | 3rd Place |
| Grade 2 | Willy | Max | Dawson |
| Grade 3 | Daniel | Shiga | Bosco |
| Grade 4 | Elaine | Harold | Anne |
| Grade 5 | Quintin & Lucas (tie) | Julio | Lorraine |
| Grade 6 | Miya* | Jasmine | Gabrio |
(*Miya got 156 questions in 3 minutes!)
Math Concepts:
| | | | |
| --- | --- | --- | --- |
| | 1st Place | 2nd Place | 3rd Place |
| Grade 2 | Willy | Max | Dawson |
| Grade 3 | Nirviana | Shiga | Sarah |
| Grade 4 | Anne | Ezra | Merci |
| Grade 5 | Lucas | Sarah | Jaedon |
| Grade 6 | Aiden | Miya | Jasmine |