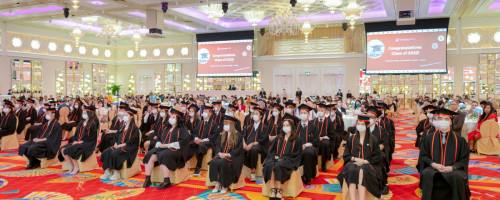 Each guest entering the ballroom of the Wynn Palace on Saturday, June 4, could feel the excitement of the 68 students who were ready to embrace a new future. It marks the end of an era as they walked down the aisle to the traditional ceremonial 'Pomp and Circumstance' plus the applause of proud family members, friends, teachers and honoured guests who came to show their support, and share in this milestone of these accomplished graduates. While those who were not able to attend watched via a live Facebook video stream.
Masters of Ceremony, Grade 12 students, Ms. Rachel Cheong and Mr. Thomas Zhang, welcomed the guests eloquently in both English and Chinese. Head of School, Mr. Howard Stribbell, commenced the speeches by contemplating the many missed events they would have experienced had it not been for Covid-19, which impacted every year of their final high school years. Noting that this event changed the world for these students and their high school experience, they are also lucky because despite the hardships experienced, "they have fought and succeeded and are here today."
It was not only the strength and resilience of the Class of 2022 that Mr. Stribbell reflected on but also their thoughtfulness. You could feel the emotion as he relayed to the parents that the students had left an empty chair to honour the memory of one student whose beautiful and talented life was cut short far too early, Matthew Campbell.
Secondary Principal Mr. Lorne Schmidt spoke about the changing world where these graduates find themselves in, reminding them that with change comes opportunity. He encouraged the Class of 2022 to look toward their strengths and take advantage of the many diverse opportunities that await these graduates as they move forward into their further education and, ultimately careers.
Graduation marks the end of 13 years of hard work, perseverance and dedication, and as each student walked the stage, proudly accepting their High School Diploma, you could not help but feel happy for these young people.
To an enthusiastic, welcoming applause from her peers, class Valedictorian Jeya Verschuren took to the stage and reminded each student how unique and special The Class of 2022 is. No matter how long each student had been at TIS, they had found their home and family in each other. She spoke beautifully to the mantra, 'Never try, never know,' to encourage her friends never to give up and keep pushing and growing, no matter where they were going. There were laughs aplenty as she recalled the fun, struggles, and successes they had faced.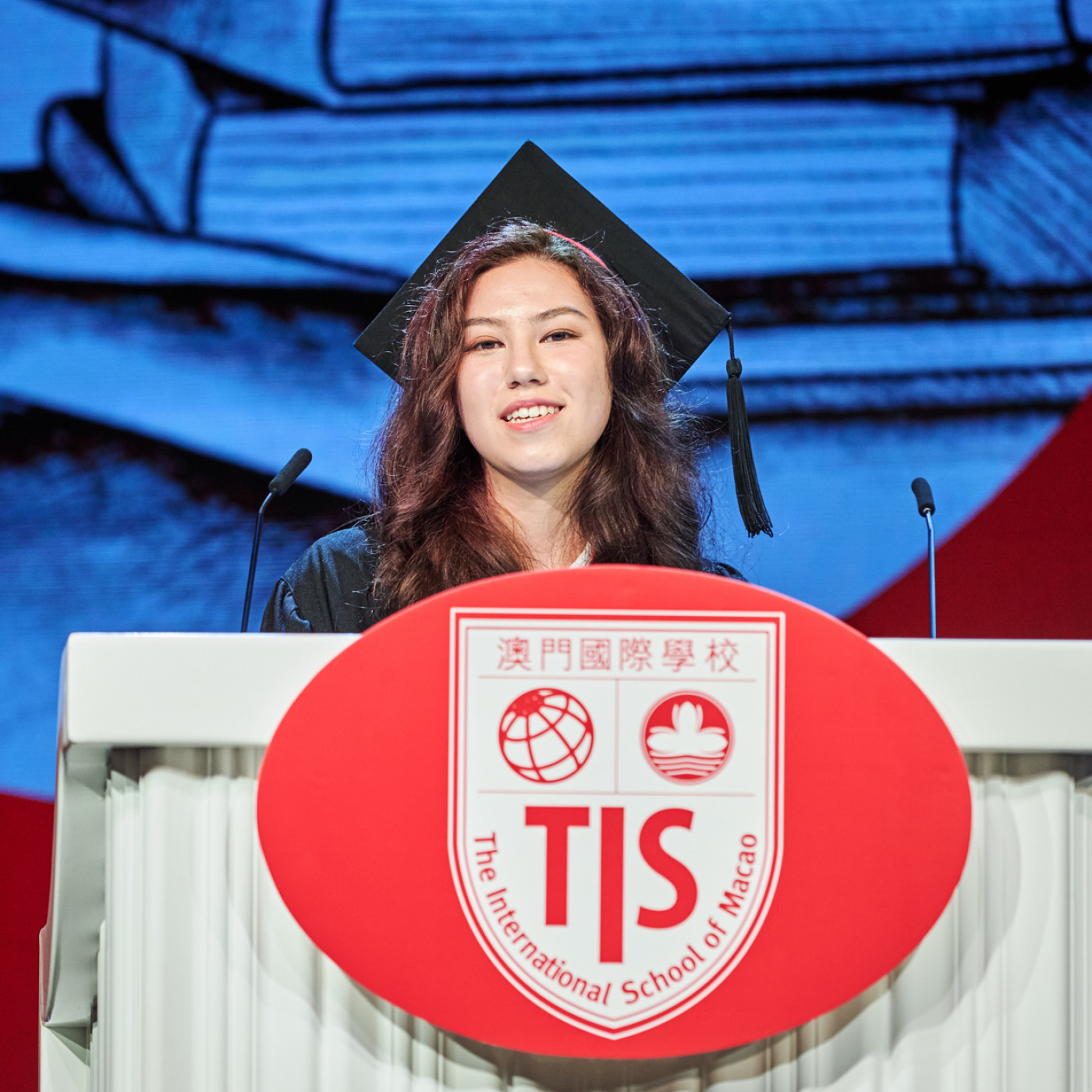 On behalf of the class, Jeya thanked the parents and teachers for encouraging them to make mistakes and venture out of their comfort zones. For their friendship and being role models that they could look up to. Finally, reminding them that they were ready to face the world with open arms and grab each opportunity because if you 'Never try, you never know.'
As is the TIS tradition, this year's awards highlight the dedication to excellence of our students. Congratulations to each awardee.
Governor General's Award: Fong Kai Linda Wu
The Governor General's Medal, established in 1873, recognizes the student who has achieved the highest overall academic average, including all Grade 11 and 12 courses.
Presented by Dr. K. L. Tong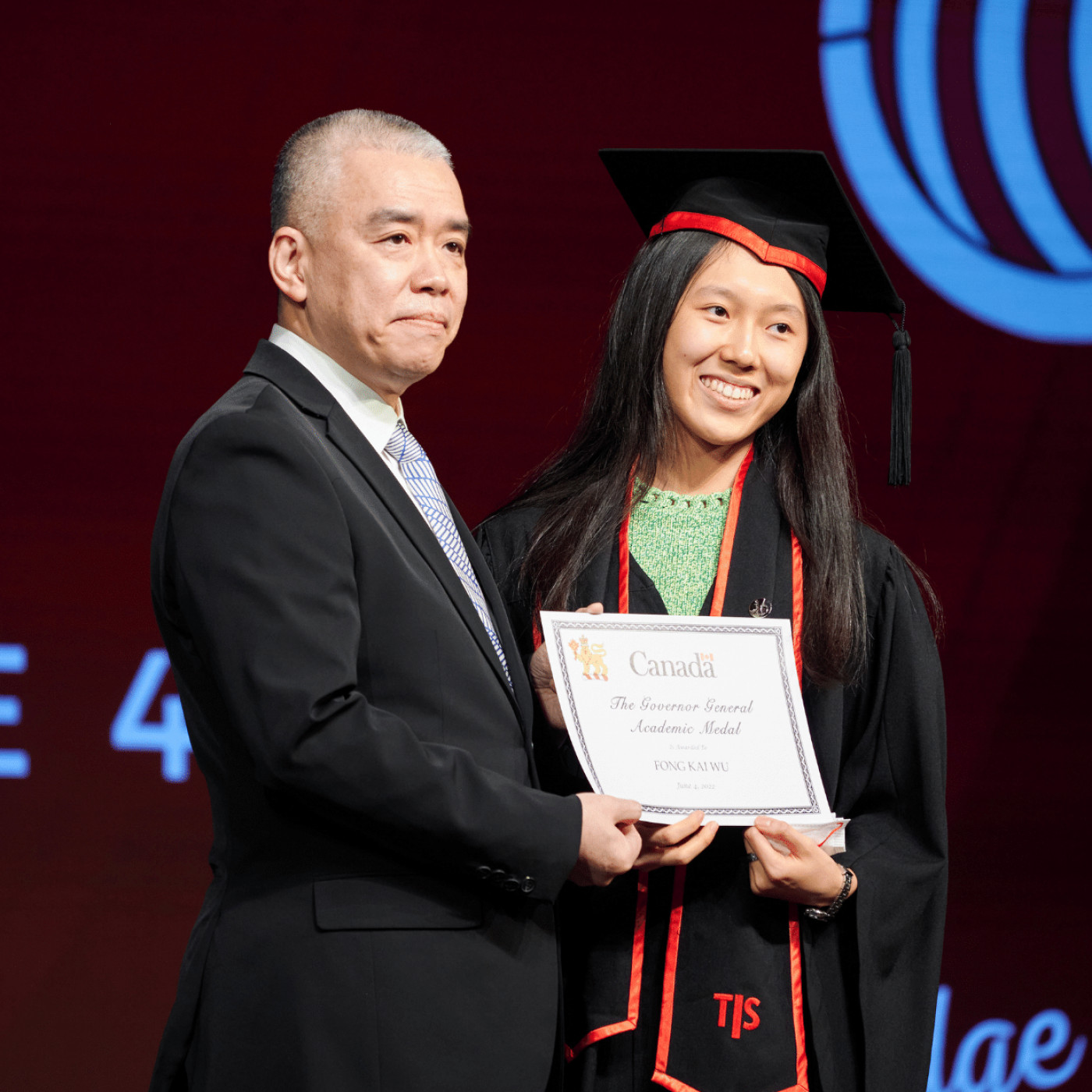 Patrick Mitchell Community Citizenship Award: Nathan Gregory Tye
Awarded to a well-rounded student with both academic achievement and extracurricular participation. They show leadership in the school community and exemplify TIS and its mission statement.
Presented by Dr. Peter Lam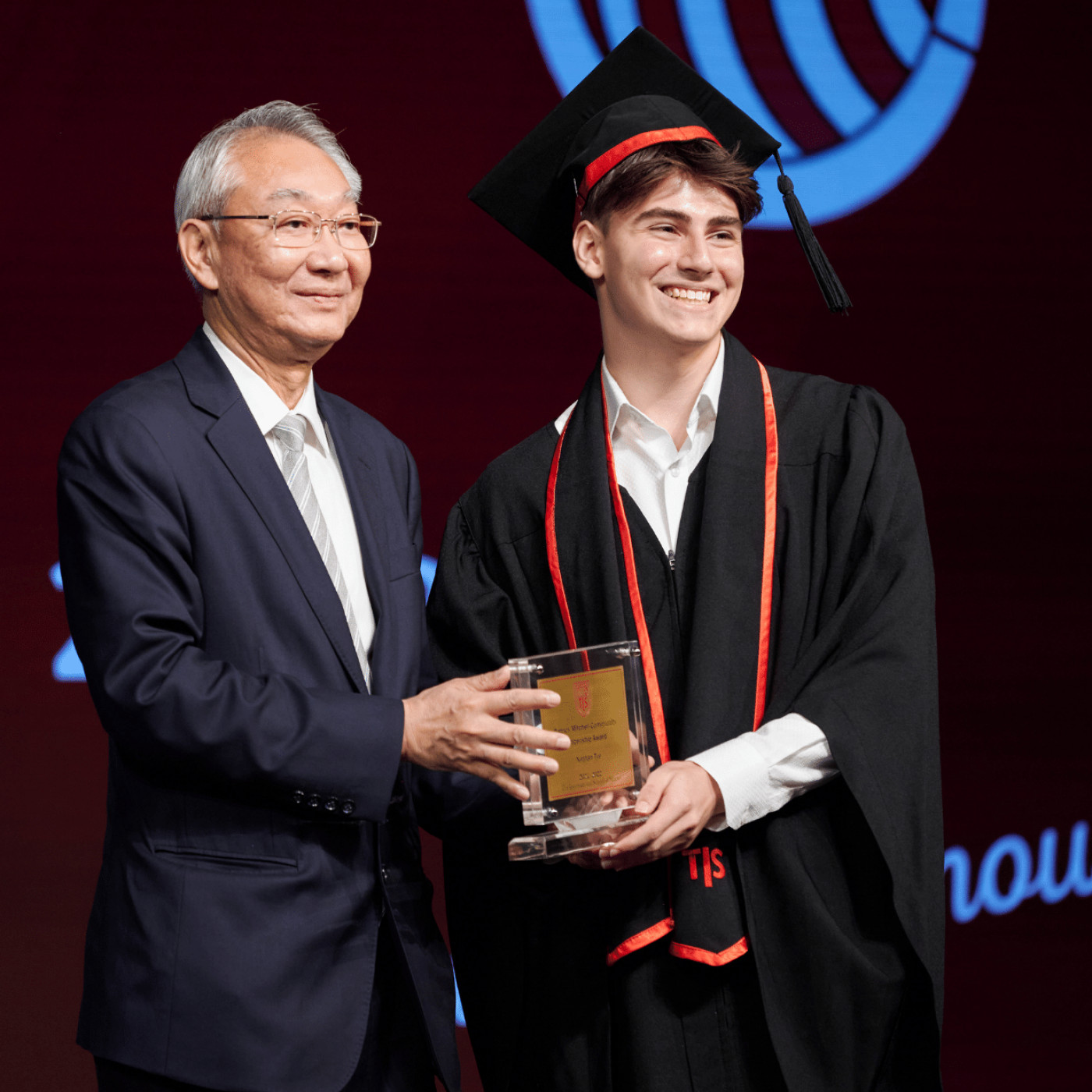 Neil P. Johnston Fine Arts Award: Bianca Acconci
Awarded to the student who has made an outstanding contribution to TIS in the area of Fine Arts through their study of music, drama, art and/or multimedia and their involvement in these areas while participating in school-related activities.
Presented by Linda Chen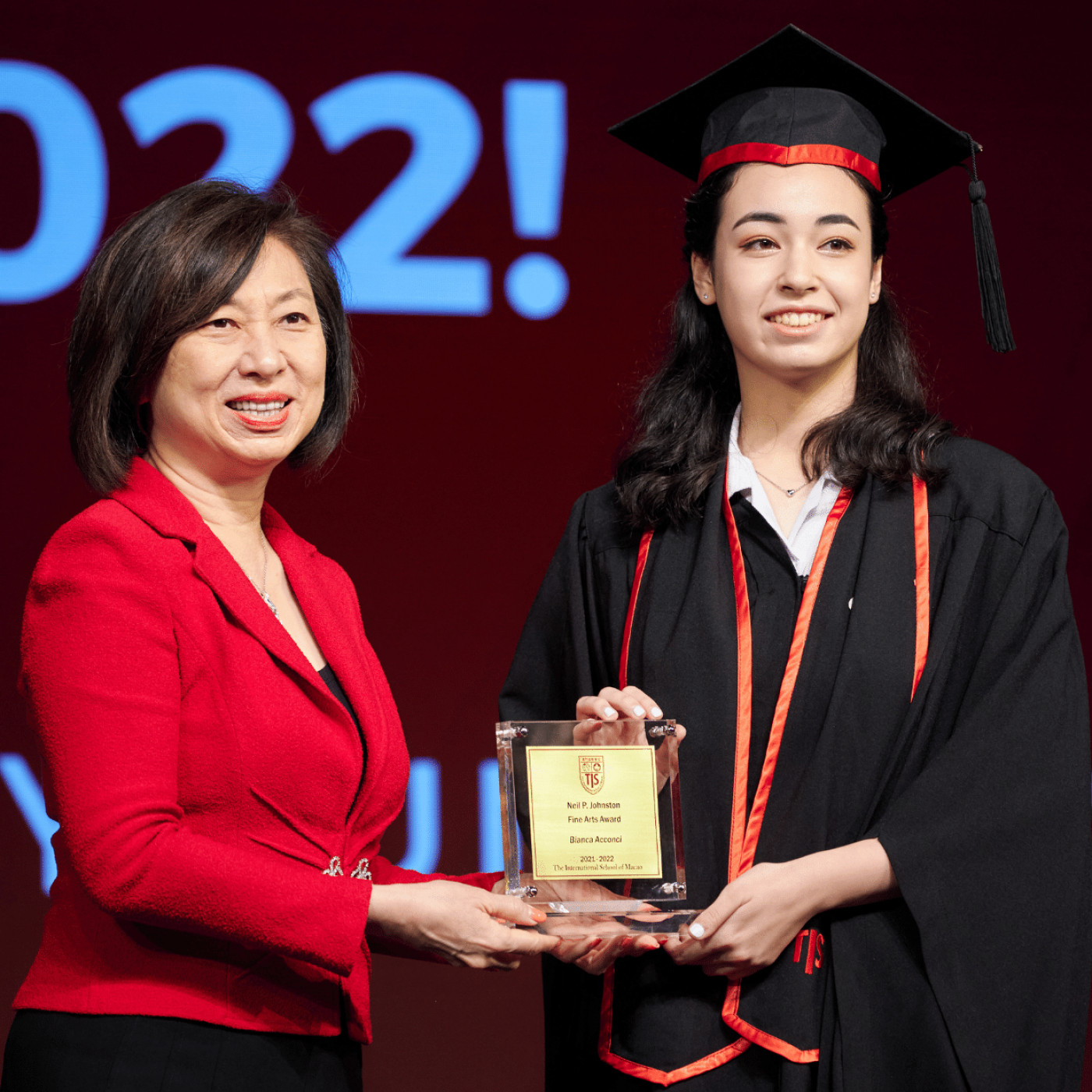 DSEDJ Lotus Award for Academic Excellence: Fong Kai Linda Wu & Nathan Gregory Tye
Awarded to the female and male students who have maintained the highest grade point averages for Grades 10, 11 and 12.
Presented by Mr. Luis Gomes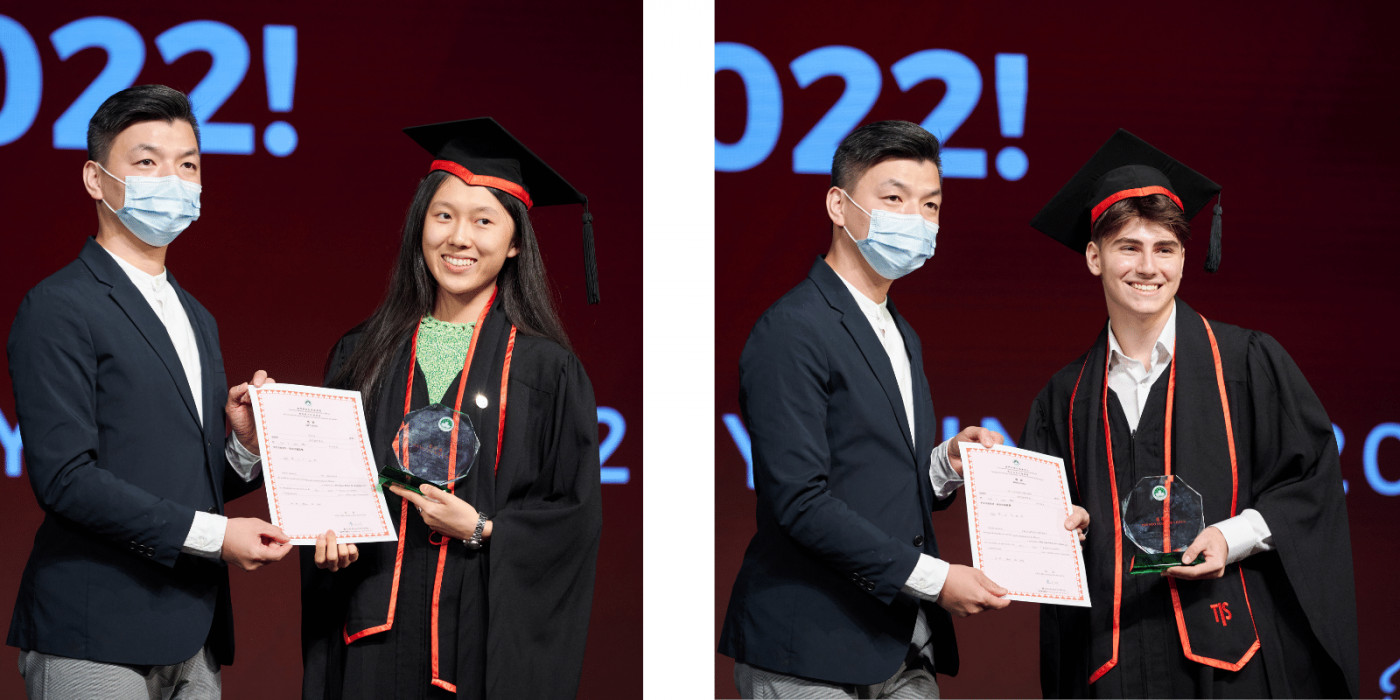 DSEDJ Premio Li Bai Award For Academic Excellence in Chinese Language and Culture: Tianyi Thomas Zhang
Awarded to the top student of Chinese Language and Culture in Grade 12.
Presented by Mr. Luis Gomes
Spirit of Canada Award: Natasha Ho
Presented by Mr. Howard Stribbell
The Spirit of Canada Award winner does not only hold their academic career in high regard and has a well-rounded school life but believes in balance. Furthermore, the award recipient shows leadership in the school community and works well in an international and multicultural community.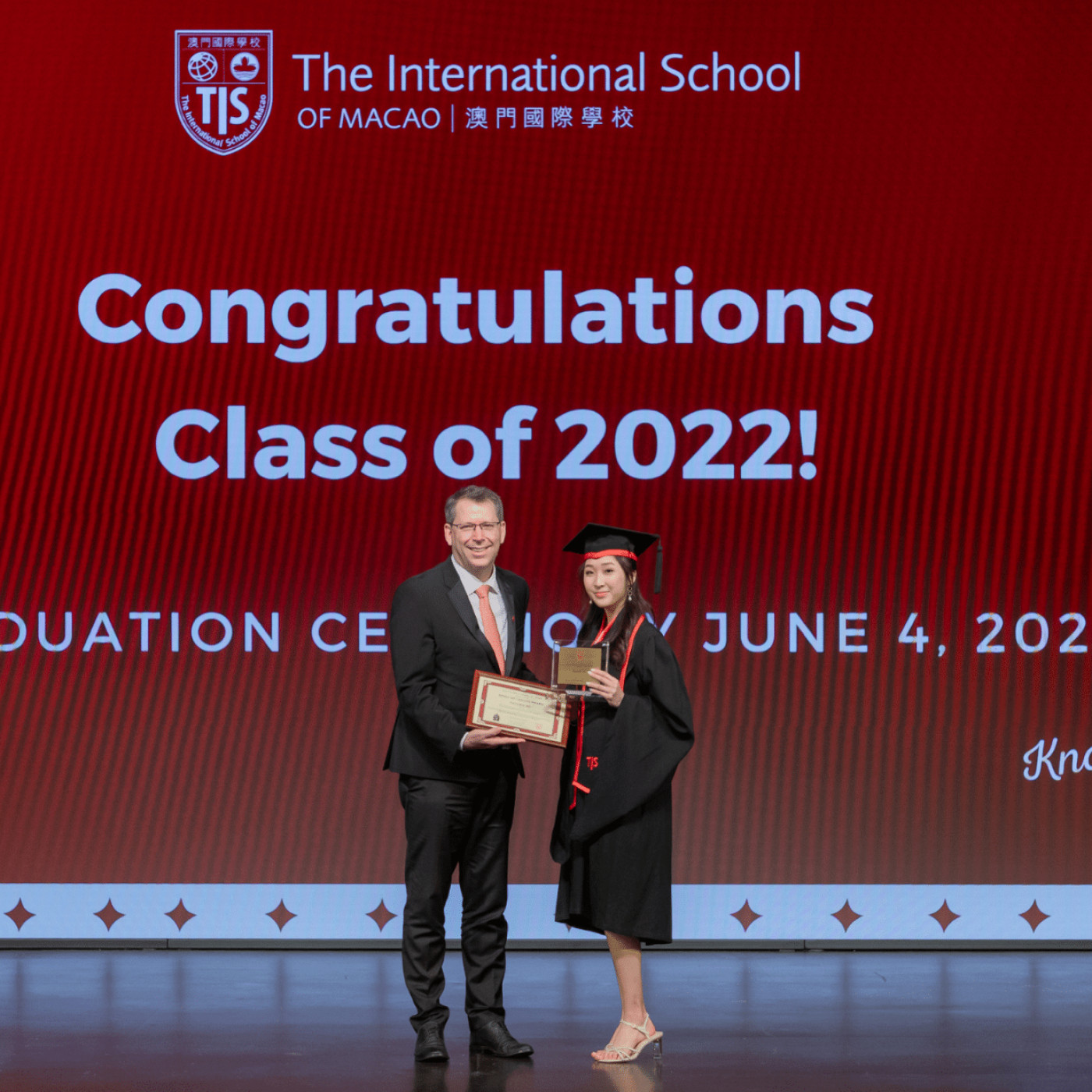 TIS congratulates each Grade 12 student on an exemplary end to the year. We wish them the very best as they move forward and fulfill their dreams. Best of luck Grade 12 and always remember the mantra, 'Never try, never know'.
To read this article in Chinese please click here.