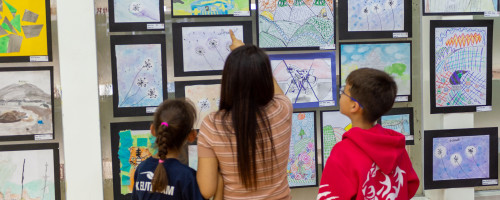 It is important to cultivate a love of the arts at an early age. Art allows us to express ourselves with no confinement and to process complex concepts making them more digestible. But most importantly, it connects us to others who might find solace in our work.
Yesterday (May 26), a School-wide art exhibition filled the MPR (multi-purpose room) with artwork from all the students from Pre-K to Grade 12. Students, parents, teachers and staff got to admire the marvellous creations of our very talented students over food, drinks and live music performances.
It was astonishing to see the amount of creativity that immersed the room. From grade 8's giant sea themed creatures, to grade 11's extraordinarily perceptive pieces, the artistry was undeniable.
Through this outlet, students are given the opportunity to fully express themselves. We saw how everyone has something unique to offer and put out into the world. Our craft may come in many forms, but it truly becomes a masterpiece when we carefully nurture it with our own individual touch. On this particular night, everywhere we looked, we saw masterpieces.
We are proud that students of all ages obtain valuable life skills through this experience. Skills such as mental planning while envisioning the project ahead, problem-solving when those plans pose substantial difficulties and resilience in following through with the plan. Art can access different parts of our brains that other subjects may not be able to. Adding to that, the emotional and psychological benefits are also very well documented.
Congratulations students, teachers and staff for putting together one of the most compelling nights of the year. We can't wait to see how this might significantly impact all your bright futures.