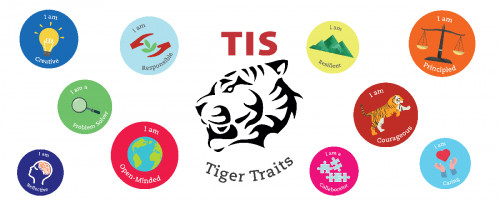 "Intelligence plus character -- that is the goal of true education" - Martin Luther King, Jr.
Communities play an essential role in the education of children. It is in their communities that children learn and practise the skills that will one day make them responsible citizens, and it is the shared responsibility of all community members to guide children in becoming kids of character. Character includes behaviours that reflect the shared attitudes and values of the community.
At TIS, we believe the following ten values are crucial to the development of socially responsible, lifelong learners who are able to problem solve, think critically, and make changes in our global community; we call this collection of shared values the TIS Tiger Traits.
TIS TIGER TRAITS AT A GLANCE
TIS Tigers are:
COURAGEOUS
We are brave learners and take risks with our learning. We seek help when we need it, but we also realise that mistakes are how we learn.
CARING
We care for ourselves, our school, our community and our world. We treat others with kindness, respect, courtesy, compassion and consider how our actions affect those around us.
RESPONSIBLE
We are accountable for our actions, learning and the choices we make. We are trustworthy and reliable.
REFLECTIVE
We think deeply about our actions and our role in the experiences we have. We understand that there are things that are within our power to change, and we forgive ourselves and others when we make mistakes.
PROBLEM SOLVERS
We are inquirers and are curious about the world around us. We think critically to develop solutions to problems.
CREATIVE
We are flexible thinkers who can approach taste from different perspectives and we value individuality. We use our imaginations to express ourselves.
RESILIENT
We are determined and have a growth mindset. Through dedication and hard work, we can accomplish our goals.
COLLABORATORS
We see value in working together to solve problems and achieve goals. We communicate by listening and sharing our ideas respectfully.
PRINCIPLED
We know the difference between right and wrong and choose the right thing to do even when no one is watching.
OPEN-MINDED
We are willing to consider new ideas and seek to understand different perspectives. We are empathetic even when we disagree.
To read about the Tiger Traits in detail, please click here.
IS CHARACTER AN INHERENT QUALITY?
Often, it is assumed that character is an inherent quality -- a quality that people are either born with or without. But, we believe character can be learned and practised just like any other skill.
Character education is not limited to a single lesson in school or at home, but it is woven throughout every aspect of a child's day. From riding the bus, to waiting in line, to singing in Music class -- these are all opportunities for children to learn skills that will help them become good people both inside and outside of school.
There are many benefits to character education initiatives like Tiger Traits, including higher academic achievement, improved self-discipline and relationships, and greater respect for self and others (Alberta Education, 2005).
Tiger Traits also encourages students to practise mindfulness and to adopt a growth mindset. By learning about each trait, students are able to reflect and improve upon their existing skills as well as develop new ones.
Every month, primary students will study one Tiger Trait. As a school, we will work to reinforce this trait in as many aspects of school life as possible. Our assemblies include introductions and celebrations of the monthly Tiger Traits; Health lessons are used as an opportunity for the explicit instruction of each trait; green tickets, Tiger Trait stickers and certificates, as well as Kid of Character awards are given to students as positive reinforcements for those who are actively practising the Tiger Traits. Additionally, Tiger Trait of the month newsletters are emailed to parents every month to offer suggestions for how each trait can be reinforced at home. Be sure to check our TIS Facebook page regularly, for our monthly celebration videos!