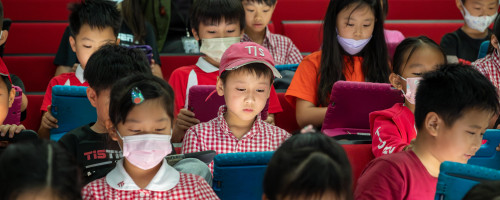 TIS's Little Wordsmiths: Mandarin Poetry Competition
On Wednesday, May 10, TIS hosted a Mandarin Poetry Competition, inviting some of School's youngest learners - our Grade 3 students - to showcase their passion for the Chinese language and culture. The competition celebrated cultural diversity, providing an opportunity for students to develop cross-cultural communication skills, practise their language skills and boost their proficiency in the language.
As part of their unit on ancient Chinese poetry, the competition aimed to complement their learnings by delving into the essence of Chinese classical culture and its profound traditions. The lead-up to the competition was filled with exciting activities, including reciting poetry, poetry with paintings, and Blooket games. These activities help stimulate students' interest in learning ancient Chinese poems and enrich their language accumulation.
The competition was divided into preliminary competitions and finals rounds, with 50 students competing in the finals using Blooket on iPads. The main selection criteria were reciting poems, understanding the content and experiencing emotions. The student's enthusiasm and active participation made the event a resounding success!
The Chinese Department at TIS provided this fantastic opportunity to our students. The event was a great example of the department's spirit of "embracing culture in teaching and integrating culture into teaching." Learning ancient poetry for elementary students can broaden horizons, improve perception and literary quality, and it's never too early to start!
Congratulations to the winners, and thank you to everyone who participated and helped make this a successful event.