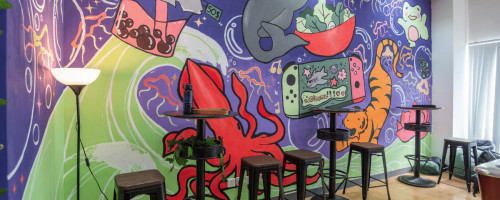 The Perfect Place to Chillax: Created By Students, For Students!
The TIS student council is excited to announce the opening of the Chill Room for high school students! This exciting new space was created with high school students in mind, to provide a fun and relaxing environment to unwind, take a break from their studies, and enjoy some time with friends.
The Chill Room has everything - from a pool table and dartboard to vending machines stocked with healthy snacks. Plus, it has comfy bean bags to sink into after a long day of studying.
But the Chill Room is more than just a space to hang out and have fun. It's also a space designed to promote mental health and well-being. The room is adorned with a beautiful mural created by the talented artists in our student community during Experience Week.
The bright colours and light-hearted designs are sure to lift up your spirits! It truly is the perfect space for students to decompress and take a breather from the academic pressures of high school.
Thank you to the Experience Week Art Group, the Student Council, and Mrs. Kiat for making this possible for the high school students now and in the years to come.