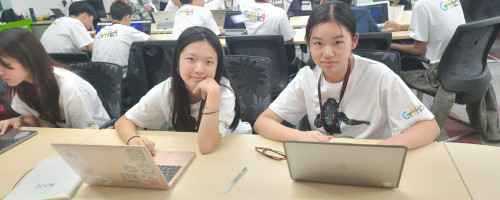 TIS Students at the 2023 XR Asia Cup Challenge
At TIS, we prioritise innovation and hands-on learning as essential components of a dynamic education that prepares our students for the future. By providing our students with diverse opportunities to explore the latest advancements in technology and develop computational and innovative thinking competencies, we're fostering critical thinking and creativity in our students, thus helping them to make positive contributions in the world around them.
Recently, our Grade 10 students Elisabeth and Chi Hun, accompanied by Mr. Voykin, our Technology Department Head and Ms. Irvine, our Secondary CTF & Multimedia Teacher, embodied our commitment to innovation and experiential learning by participating in the 2023 XR Asia Cup Challenge. This event, hosted by The International School of Tianjin in collaboration with the Global Association for Immersive Learning Advancement (GAILA), provided an excellent opportunity for students to showcase their passion for immersive learning experiences.
This highly anticipated event was designed to showcase the latest advancements in Extended Reality (XR) technology and promote innovative teaching and learning practices. Students had the opportunity to participate in this exciting challenge, which aims to foster a culture of innovation and encourage students to think creatively and independently.
The challenge provides an excellent opportunity for students to learn from experts in the field and explore new frontiers in technology. We are proud of Elisabeth and Chi Hun for their commitment to pushing the boundaries of their knowledge and skills, and representing TIS with creativity, innovation and dedication.
We look forward to seeing what the future holds in the world of XR technology!