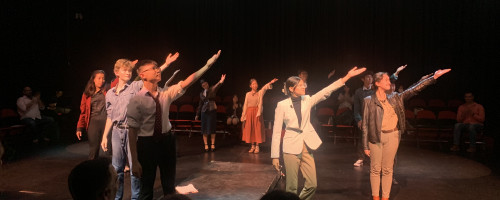 A Memorable Night Where YOU Became Part of the Play!
In a night that was truly one of a kind, the secondary students brought to life "Book of Days" in a theatre-in-the-round setting that left us all amazed. It took tremendous work, but all teams were up for the challenge: the technical and design crew worked tirelessly to ensure that the lights and sound were perfect for audiences seated on all four sides of the stage, the musicians provided a live soundtrack that enriched the experience, and the actors effortlessly slipped into their characters, transporting us to the small mid-western town and making the spectators active participates in the play. This immersive production showcased not only our students' talents, but how seriously we take our arts programme, putting on a truly incredible show that is beyond the years of our secondary students.
A special shout-out must be given to Mr. Ferlisi, for his adoration for the arts and dedication to our students, continuously pushing them to reach their full potential and constantly challenging them to become great in their craft. Bravo everyone!
Cast & Crew