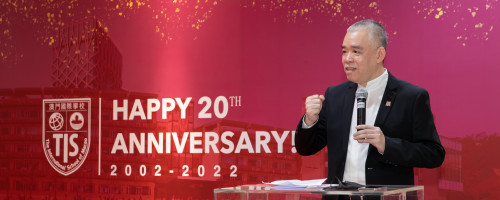 Celebrating New Beginnings
The International School of Macao (TIS) hosted the Looking Ahead Celebration in the school library, on the afternoon of June 9. The School announced that it will officially implement the IB Primary Years Programme (PYP) from September this year, becoming the only school in Macao to implement both the Canadian Alberta curriculum and the IB programmes. Mr. Luis Gomes, Head of Department of Non-tertiary Education and Dr. KL Tong, Board of Governors of TIS together with the school management team, parents and teaching staff, there were around 150 people attending the event.
TIS currently provides comprehensive courses for students from kindergarten to Grade 12. Upon graduating, Grade 12 students can obtain an Alberta high school diploma and IBDP recognized by universities around the world. From the new school year of 2022/2023, the school will extend the IB program to the kindergarten and primary school levels, and officially implement the IB Primary Years Programme (PYP). As the only school in Macao that teaches both Alberta and IB courses, TIS will further consolidate the international perspective emphasized in the Alberta High School Diploma and IB courses, and seamlessly integrate the primary and secondary school courses.
Dr. KL Tong, Board of Governors of TIS, said in his speech that since its establishment in 2002, TIS has developed into a multicultural school with more than 1,400 students. With the implementation of the IB PYP, the school will continue to optimize the quality of teaching and become a first-class international educational institution in Macao and the Greater Bay Area. Dr. KL Tong also affirmed the efforts of Mr. Howard Stribbell, The Head of School of TIS, and thanked him for leading the School in accomplishing brilliant achievements in the past. Especially in the severe situation of pandemic sweeping the world, he still faced the challenges positively and led all the teaching staff to keep on making contributions for the School. At the same time, Dr. KL Tong congratulated Mr. Lorne Schmidt to be the new Head of School. He believes that under Mr. Schmidt's leadership, TIS will continue to grow steadily.
Over the years, TIS has cultivated many graduates who have developed outstanding achievements in various fields. To this end, TIS announced the establishment of the first Alumni Awards and presented awards to four alumni at the event. Among them, the winners of the "Academic Excellence Award" are Daniel Yan, who received a full scholarship to the Department of Mechanical Engineering at Johns Hopkins University, and Luís Ribeiro, the first alumnus to become a practising doctor. The winner of the "Local Achievement Award'' is Charles Leong, for his two consecutive wins of the Macao Grand Prix. The winner of the "Out of the Ordinary Award" is Sabina Mendes, who is the winner of the "Miss Hong Kong 2021".
Thank you to parents, teachers, staff, media and other guests who made the Looking Ahead Celebration a huge success.