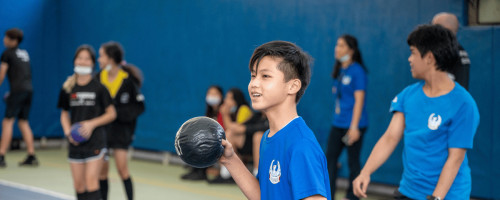 TIS House Team Events builds sportsmanship!
𝗧𝗲𝗮𝗺 𝗕𝘂𝗶𝗹𝗱𝗶𝗻𝗴 ✅ 𝗦𝗽𝗼𝗿𝘁𝘀𝗺𝗮𝗻𝘀𝗵𝗶𝗽 ✅ 𝗚𝗿𝗲𝗮𝘁 𝘄𝗼𝗿𝗸𝗼𝘂𝘁 ✅ 𝗪𝗵𝗮𝘁 𝗲𝗹𝘀𝗲 𝗱𝗼 𝗛𝗼𝘂𝘀𝗲 𝗧𝗲𝗮𝗺 𝗰𝗵𝗮𝗹𝗹𝗲𝗻𝗴𝗲𝘀 𝗵𝗮𝘃𝗲 𝗶𝗻 𝗰𝗼𝗺𝗺𝗼𝗻? 𝗙𝘂𝗻, 𝗼𝗳 𝗰𝗼𝘂𝗿𝘀𝗲!
On December 7, balls sliced through the air, and thumps and thwacks echoed throughout the MPR as they met their mark! Cheers from the onlookers gathered momentum as the 𝗠𝗶𝗱𝗱𝗹𝗲 𝗦𝗰𝗵𝗼𝗼𝗹 𝗛𝗼𝘂𝘀𝗲 𝗧𝗲𝗮𝗺𝘀 went head to head in a Dodgeball challenge. There was a look of determination on the players' faces as they did their best to eliminate their opponents in the scramble for team points. Phoenix dominated the challenge, but everyone enjoyed the friendly competition!
𝗪𝗵𝗶𝗹𝗲 𝗶𝗻 𝗘𝗹𝗲𝗺𝗲𝗻𝘁𝗮𝗿𝘆, students tested their agility and spatial awareness as they nimbly dodged and weaved their way through teachers on the front field, eager not to get tagged in a nail-biting game of Teacher Tag. This game tested our students' & teachers speed skills. Nevertheless, all had so much fun, as attested by the smiles and laughter evident on everyone's faces. Lions were first place, followed by Phoenix, Dragons and Pandas. Go Teams!