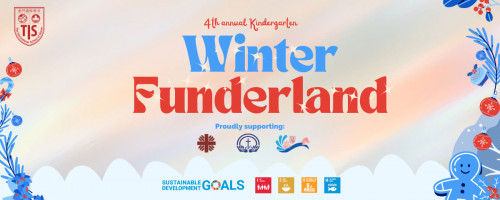 Kindy Funderland Brings Together TIS Community
The annual Kindergarten Winter Funderland is one of the most anticipated events of the year, with the fundraising event being in its 4th consecutive year. Organised by our Kindergarten team of students, parents and teachers, Funderland brings together the Tigers community to make new, meaningful memories for our families.
This year, with the United Nations' Sustainable Development Goals in mind of #1 No Poverty, #2 Zero Hunger, #11 Sustainable Cities and #14 Communities and Life Below Water, the Kindergarteners collected donations for Caritas and Cradle of Hope. By donating an item, you could take home a wonderful project made with recycled materials by students from Pre-K (K-1), JK (K-2) and SK (K-3). For example, inspired by their field trip to Hác Sá beach, PK-1 students found beautiful shells that they turned into unique keychains. They added beads to them, exercising their motor skills, math and language skills as they negotiated with each other to share different materials for their creations.
The success of events such as this one is due to the many benefits it brings. Not counting the delicious hot chocolate Mrs. S our Kindergarten Vice-Principal is known for, the line of eager donors is a testament to the great taste and the knowledge that each cup goes toward helping someone in need. All of this combined, adds to the feeling of togetherness that is evident as soon as you enter the MPR. TIS is proud of its community. When children see the positive collaborative relationship between parents and teachers, in and outside the classroom contributing to causes they believe in, we deeply enrich their educational experiences. Students learn the value of community, creativity and care to make the world a better place.
To add to the holiday spirit, SK students had the pleasure of having a Christmas story read by… their parents! In addition, families spent quality time together in the SK classrooms after Funderland and got to hang out with their children and teachers. Such a wonderful experience for all!
Kindergarten Funderland is an impressive representation of how the TIS holistic approach cultivates the child, by giving them opportunities to grow and develop in their unique way. The expansive, creative and holistic education has outstanding lifelong results, with students going on to become change-makers, each in their own way whether they become scientists, leaders, artists or anything they aspire to be ← To learn more about how TIS helps our students become what they envision themselves, please visit https://tis.edu.mo/people/alumni
Special thanks to TISPA for brining in Santa from the North Pole and helping with raising funds through the sale of popcorn.
Psssst: There were a few enquiries about the whereabouts of the gingerbread cookies Mrs. S personally makes each year. Unfortunately, she didn't find the secret ingredient in time to make a delicious batch for Funderland. But keep your eyes open: they may make an appearance soon…
Join us next for Winter Wonderland from 5 to 7 PM on Thursday, 15 of December at MPR1 and the outside area. As always, shop, play and enjoy a delicious BBQ while sharing the holiday and school spirit with your community!