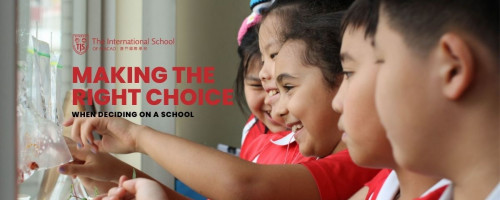 Making the right choice for your child when deciding on a school is one of the most important decisions a family will ever make. Of course, you want to ensure your child receives the best possible education and support while growing up happily.
The biggest question every parent and guardian has when choosing the right school is "Is my child going to be successful in this educational environment?" And there's nothing better than an Open Day to help you answer that question.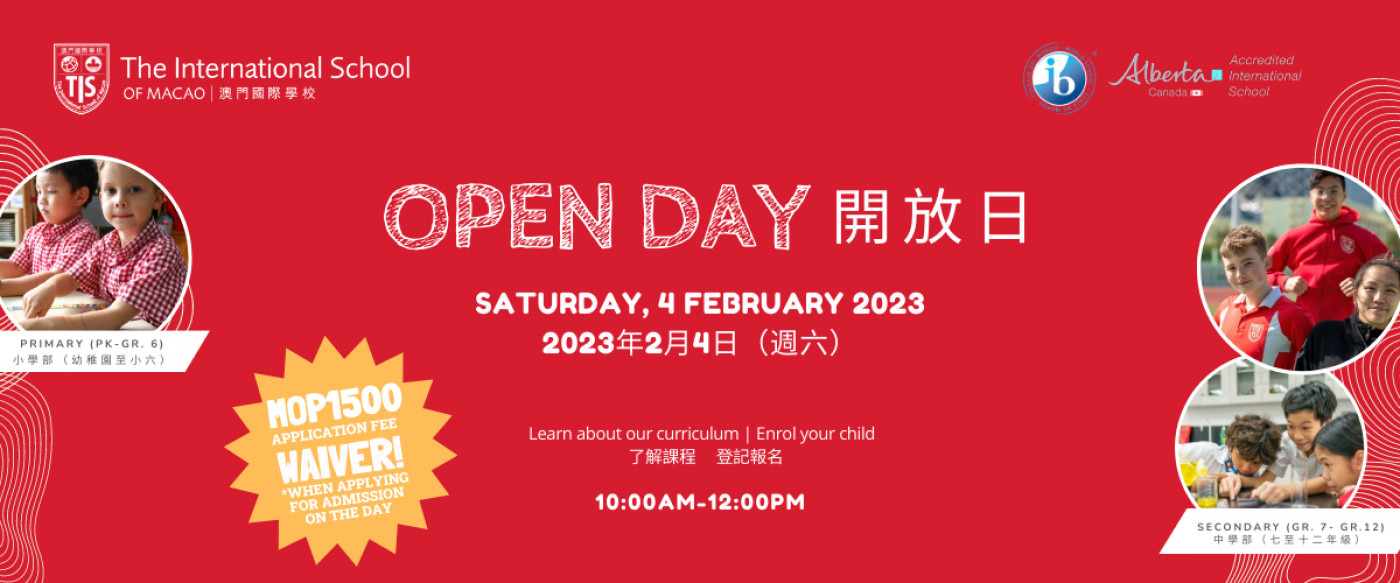 Reason to Visit TIS Open Day:
Our doors are open for parents who are considering sending their children to TIS or have a child due to start in September 2023. Join us on Open Day on 4 February 2023 (10:00-12:00) and learn about the TIS Advantage and what our education can offer your child.
We're waiving the MOP1500 application fee for those who join us on the day and apply for admissions. Register attendance now! Click here.
On the day, you will have the opportunity to:
meet the principals, staff, current students and parents past and present

speak to our highly experienced and international teachers

explore our exquisite school facilities

join a guided tour
On this day you'll learn about the curriculum offered here at TIS and why it's different to the other schools in Macao. You'll also learn about how TIS supports every student, from those who need extra help to challenging high achievers. We encourage you to join us to help find out if our School fits and aligns with the overall personality, strengths, needs and interests of your child.
To assist you further, we've put together some pointers on why you should visit our School (or any other) and what to ask during your visit:
Environment
By visiting TIS during Open Day, you will have the chance to immediately get a real sense of the environment and overall atmosphere that is just not possible through a phone call or website. You'll be able to take a peek into our classrooms, facilities and available technologies that your child will spend a lot of time interacting with.
Ask: What are the class sizes?

Meet the teachers, staff and students
Consider our quality teaching and staff, expectations of students and how our current students behave: these are the people who make the school go around. By visiting the School on the day, you have the opportunity to meet and talk to the people who you will trust with your child's education. You may also meet some students and discover how happy they are. Don't be afraid to ask them questions!
Ask: about parent-teacher communications; you may even ask our students what they think! Talk to our current and past parents. Ask them how they find parent-teacher interaction.
Sports & Extra Curricular Activities
We offer a wide range of activities after school, from sports to games to learning languages, leadership skills and thinking skills, including the prestigious Duke of Edinburgh Award.
Ask: for the current list of after-school activities.
Learn About Future Plans
This is where your child will spend most of their developing years, so it's good to know what's ahead. During our Open Day, not only can you learn about the future opportunities TIS can offer your child, but you can receive information about future developments, such as updates to curriculum or building new facilities that will impact your child's learning experience.
Ask: about what universities our students get into (Or check the non-extensive list we have up on the wall at the entrance of our School)
Safety, campus life, athletics and extracurricular activities, class sizes, costs and fees, and of course location/distance from home are all things to consider. Invest time in the future happiness of your child, and join us on Open Day to find out more.
為孩子正確地挑選學校是其中一樣對家庭而言至關重要的決定,原因是家長想確保孩子在快樂成長的同時得到最佳的教育和支持。
對於家長及監護人而言,選擇學校時最大的疑問便是「我的孩子是否會在這種教育環境下取得成功?」而回答這個問題最有力的答案,便是參與學校的開放日。
出席澳門國際學校開放日的理由:
考慮將孩子送到澳門國際學校或將於2023年9月入學的家長請知悉,澳門國際學校大門已準備好向您敝開。誠邀您前來參加本校開放日,親自了解我們如何讓孩子體驗不一樣的教育之旅。
在開放日當天遞交報名表格的家庭,可獲豁免1500澳門元的報名費。請點擊以下按鍵登記出席!
開放日當天,您將有機會:
與校長、職員以及在校或過往就讀的學生和家長碰面

與具豐富經驗的國際教師交談

探索精緻的校園設施

參與校園導賞

開放日當天家長可了解澳門國際學校的課程與別不同之處,並同時了解學校是如何支援無論是那些需要額外幫助的學生,或是勇於接受挑戰的高階學術者。我們誠邀家長前來,協助您了解我們學校是否符合孩子的整體個性、優勢、需求以及興趣!

為進一步幫助家長,我們整理了一些參觀我們學校(或其他學校)的建議,以及期間該問甚麼問題的小攻略:
環境
通過參觀澳門國際學校開放日,您將有機會親身感受學校環境及整體氛圍,這些是透過電話或網站無法實現的。在參觀教室、設備以及技術時,孩子還可以暢玩其中。
問:班級規模情況?
與老師、員工以及在校學生見面
考慮到我們高質量的教學及員工,我們定義學生的期待以及品行,為:學校靠這些人來得以運轉。通過參觀學校,你有機會與對孩子教育上有幫助的人碰面和交談。另外,還有機會與在校學生碰面,感受他們的快樂。歡迎向他們提問,莫要拘謹!
問:關於家校溝通的問題;甚至問在校學生有何想法!與在校或從前就讀家庭聊天,問他們如何看待家長及老師之間的互動。
體育及餘暇活動
澳門國際學校提供廣泛的課外活動,從運動到遊戲、語言學習、領導技能以及思維能力等,甚至包括享有盛譽的愛丁堡公爵奬。
問:拿取餘暇活動列表參考。
了解未來的計劃
孩子成長過程中大部份時間都將在這裡,所以最好是掌握未來的進展。在開放日,家長不僅可了解澳門國際學校為孩子提供的機會,還可獲得未來發展的信息 – 如課程更新或新設備建設等;這些都將影響孩子的學習體驗。

問:高中畢業生獲哪些大學錄取?(或前往學校大堂查看牆上掛著的一部份大學錄取名單)
安全、校園生活、體育及課外活動、班級規模、成本及費用、以及自家出發往返學校的位置/距離等,均是考慮因素。為孩子未來的快樂投入時間,在2023年2月4日(週六)前來參與我們的開放日,了解更多。