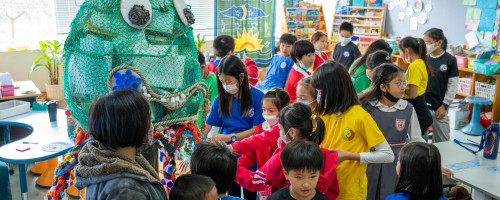 Turning Trash Into Treasure
Waste In Our World - Grade 4 unit
As part of Grade 4's Waste In Our World unit, students collected materials from a recent beach clean up for an artful and mindful project. With Ms. Tchusca and Steam Coordinator Ms. Fenwick-Ross collaborating along the process, students had the invaluable guidance of these experts in identifying and collecting useful waste that would later be used on their projects, which included building their artwork and showcasing them in their very own exhibition.
Your Waste: My Inspiration, Exhibition at the IDEA Lab
Tchusca finds all kinds of treasures at Hác Sá Beach: styrofoam, lost shoes, toys we left behind, all types of plastic (bottle caps, bags, bottles, etc.), broken glass, food wrappers, buoys, old fishing nets and lighters…trash - yes, for you and me. But for local artist Tchusca, it is like gold! Because in our trash, our waste, she finds her inspiration.
Focused on the natural conservation and recycling of materials, Tchusca's work often features rubbish collected at Hác Sá beach and with her discerning artist's eye she turns into beautiful, conversation starter, pieces of incredible art.
Educational assistant at TIS by day and full-time local artist by night, this re-maker of trash turns everything she finds off the shore of Hác Sá beach into her body of work. And everything is used: there is no waste in her art.
TIS Students Search for Inspiration in Tchusca's work
To help the Grade 4's further, an exclusive pop-up exhibition of Tchusca's work was held at the IDEA Lab on November 23. Our Grade 4s, as well as Grade 5 and 6 students, had an invaluable experience of seeing Ms. Tchusca's artwork up close, touching and feeling the art, and asking the questions they had under their thinking hats directly to the source (the perks from having an artist like Tchusca in our School!). Students looked for inspiration for their projects and ideas for an exhibition of their own!
"Think globally, act locally".
How is TIS making a difference?
At TIS, we have the future in mind. Through programs such as the Activist in Residence, we work directly with qualified specialists in their fields to promote a more sustainable lifestyle in and out of the School, and educate the next generations to help protect the environment. For example, you can no longer find plastic bottles in school, since everyone, from students to staff, has their reusable water bottles; Primary students often collect materials to be recycled in future projects and Secondary students spend time in the rooftop garden learning about plant life, healthy living, sustainability and more.
Since TIS adopted the United Nations' Sustainable Development Goals (SDG's), projects were born under each specific goal, with the aim to educate, inspire and take action.
To learn more about how TIS takes action, visit our Global Sustainability Program page.