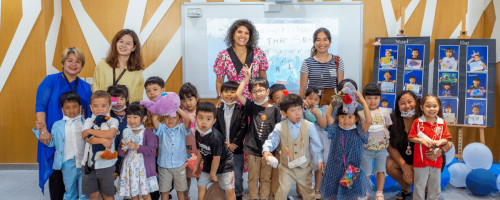 It all started with an idea:
"Why not a book?"
Mrs. Masters pondered and said, "Yes, why not!"
Before we knew it, the incredible JK-5 class had grabbed their bright watercolour pencils and started their sketches. Based on their love for the sea and the strong friendships between them, the pages were filled with colourful corals, underwater friends and a beautiful mermaid with a squared tail.
The story unfolded as each student illustrated a page of this extraordinary book. With the help of their homeroom teacher Mrs. Cláudia Masters, mandarin teacher Ms. Katherine Li, secondary science teacher Ms. Lydia Mak and the support of Ms. Shirley Gordovez and Ms. Karen Tho, "Friendship under the Sea" came to life. They could hardly contain their enthusiasm!

The story follows three friends as they work together to solve a big problem while exploring the wonders of the open sea. The class takes us for a ride in an amusing turn of events as we wonder how this quest might end.
On Thursday morning (May 5), the library entrance glistened with different hues of blue. There were cupcakes stamped with images of the book cover, fish shaped balloons, and all kinds of sea-related goodies. The surprise book launch was set. Parents, teachers and staff marvelled at this major accomplishment from these now published authors. With a lively narration provided by Mrs. Hiede Schmidt, we were transported into a world full of possibilities.
By using their creativity, teamwork and all they have learned from this year's Activist in Residence program, the students produced an outstanding piece whose proceeds were donated to the Blue Corner Marine Research program for coral restoration, a cause close to the heart of science teacher "Mermaid Mak", as the JK-5 students call her.
JK-5 have shown they don't shy away from a challenge and are not afraid to take action. As a school, we are constantly looking for ways to support our students in all their endeavours. When given the opportunity and the right tools, students of all ages have proven time and again that they are capable of great things, and this was no exception.

We are proud to see TIS values reflected in this student led initiative, as they exercised harmonious collaboration, democratic decision-making and critical thinking skills. All of which are crucial components for developing exceptional individuals that will go on to do great things for their global community.

This has wrapped up our Year for the Ocean in a very meaningful way. The JK-5 now has a materialised collection of all the valuable lessons they have gathered throughout these months. They truly are the future leaders and problem-solvers that will change our world.
The Reveal
Watch the priceless reactions from the JK-5 and their teachers as they get a first look at their brand new book

We are pleased to announce that "Friendship Under the Sea" is as of now completely sold out! However, if you didn't have a chance to get your hands on a copy, you may send a request here to purchase this brilliant story book.