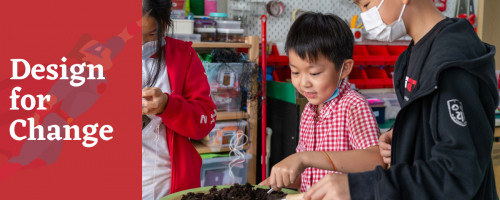 The Superheroes of Tomorrow!
The children of today are the 'Superheroes' of tomorrow. In our ever-changing world, our children are the answer to many of the problems the world is facing today. Their powerful and imaginative brains see the world differently, therefore creating ideas that we as adults would probably not think of.
'Design For Change' is an organization that empowers children worldwide to take action towards a more sustainable future. Each year a Design For Change Challenge encourages students to participate in a Feel-Imagine-Do-Share initiative where they author projects to create change. Here at TIS, our students came up with some extraordinary ideas; this is what they imagined and created.
Health and Well-Being Initiative!
Team 1 wanted to contribute to the health and well-being of the staff and students, and they created planters made with recycled materials. They hope that you have received your plant for your classroom!
Tackling Trash!
Team 2 noticed that there was too much trash lying around, so they thought students would be more inclined to put their rubbish in the bins if they changed the bins into trash monsters. See if you can spot the two monsters on the playground and teachers, tell your students that they're starving!!
Our Inspiration!
Take a look at how we came up with our concept!
Let's Label It!
Team 3 tackled the lost and found. This group noticed so many unclaimed items on the lost list and found that most didn't have names. So, they've designed and ordered labels that they want to sell at the uniform shop.
Waste No More!
Team 4 saw that there was so much food being wasted, so they met with Future Bright food and beverage group in Macau and asked if the portions for grades one and two could be smaller. The servers now also ask the older students if they want a small or large serving.
All in all-our students are amazing. These projects help children to think critically, and problem solve. It also teaches children to work together as a team. As you can see, they all did a fantastic job!
Their hard work is being submitted to the Design For Change organization, and we hope to report back on how we did before the end of the school year.