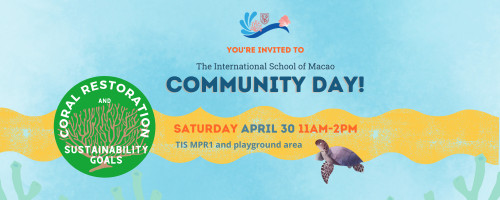 You Are Invited: TIS Community Day
Themed around the Coral Restoration and Sustainability Goals, this spring's edition of Community Day focuses on the Activist in Residence program with the aim to raise awareness and community engagement on sustainability initiatives on campus. Guests will enjoy food, drinks, games and activities for children and get to know local vendors with an array of items for sale!
Meet us at the MPR1 and the playground area Saturday morning, April 30, from 11AM to 2PM.
Don't Bin It, Bring It!
To celebrate Earth Day 2022 (April 22), the School's High School Volunteer Team partnered up with Plastic Free Macau to collect recycled materials on the day of the event, and bring them to recycling plants. Be part of this partnership for our planet by bringing clean and empty aluminum cans, paper and cardboard for collection. The team (and the Earth!) thanks you in advance for taking action!
If you're interested in setting up a booth or table at the event as a vendor or provide an activity, please complete the form: Community Day Vendor Form