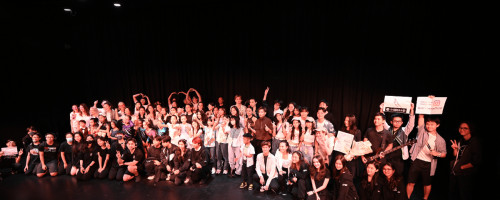 Tons of Talent Take To The Stage at TIS!
Undoubtedly, the Benefit Concert is one of the most anticipated events of the year at TIS! Its remarkable 15-year track record drew an impressive turnout from students, the TIS community and faculty. The Black Box Theatre was jam-packed on both nights, raising a whopping 24,000MOP to aid the relief efforts in Turkey and Syria.
In celebration of the Benefit Concerts' 15th year, past performers came together. They shared their experiences from the stage, which gave the evening a nostalgic feel. Mr. Kiat and the now Grade 12 students Kate, Vivi, Emmi and Claudia performed a classic hit, "Daddy Says No!" an encore performance from 2018; Ms. Stribbell and alumna Rebecca Stribbell also did a throwback performance of "Perfect," sung initially in 2013.
Two remarkable Grade 1 students showcased their exceptional talents to the audience's delight: Lonzo, our first performer started the evening with a joyous performance of an original poem, "Today is Going to be an Amazing Day," and set the tone for the evening. James, an award-winning pianist at such a young age, performed an original piano piece titled "Escape from the Cop." Twenty-one other acts followed, including Franky, from Grade 10, who amazed everyone by playing many instruments "simultaneously," and Grade 4 student Nirvana who sang a touching Chinese melody.
The night didn't end there; the audience was treated to various dance genres, ranging from high-energy hip-hop and Latin dancing to the elegance of ballet. From soloists to bands and instrumental renditions, the talent kept coming to delight the audience. The TIS staff even got up and showed everyone their moves! Plus, remember, Anti-Theory (the high school rock band) wants you to follow them on Insta!
The High School Student Council did an incredible job with this event! From the art to the ticket sales, sound, rehearsals, and lighting to even the MCs and roadies - they worked hard and ensured everything ran smoothly. Congratulations on another successful charity event.