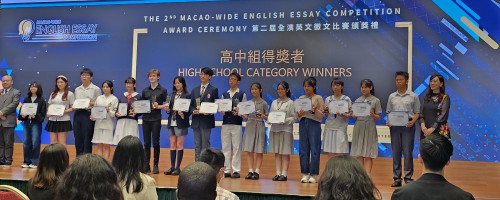 2nd Macao-Wide English Essay Competition
An Inclusive World was the theme selected for the 2nd Macao-Wide English Essay Competition. With over 1,000 participants, the competition challenged students to think critically about the world around them, and reflect on how together we can create an equitable world using the United Nations' Sustainable Development Goals (SDGs) as blueprint. We are extremely proud to announce that three TIS students received awards in the competition!
Austin (Grade 5) got an Honourable Mention for Upper Primary, with his essay "Gender Equality Can Make the World a Better Place" tackling SDG #5 - Gender Equality, and suggesting ways in which spaces, such as school, can become more inclusive for all genders.
"My vision is that children should grow up and be taught that the world is fair for all genders" - Austin
Miki (Grade 10) received an Honorable Mention for High School with "An Inclusive World", addressing the lack of inclusivity in the beauty industry and emphasising the unattainable beauty standards.
"Acknowledging the need for inclusivity is a vital step to improving global equity" - Miki
and Jonathan (Grade 12) won Third Prize for High School, with his work titled "A World We Can Call Home" highlighting SDG #5 and #10 in his call for the celebration of people's individuality, instead of discrimination against those deemed as different. This is Jonathan's second time participating and winning in this competition!
"The world we are destined to create in 2030 should be a haven for everyone, no matter how 'different' others paint them to be" - Jonathan
Congratulations to all three students who produced articles that were not only thought-provoking, but also incredibly inspiring, advocating for the positive changes they would like to view in the world. Seeing how forward thinking and globally conscious our students are, we can all breathe a little easier knowing the future is in their capable hands.