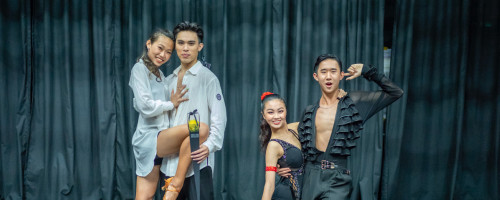 Benefit Concert 2022: Another Successful Show!
The Student Council has once again put on a successful and highly anticipated Benefit Concert. The Benefit Concert first started in 2009 as a way to raise money for the Sichuan earthquake. Ever since, the concert has become one of the largest events that the Student Council hosts. This is particularly special because all members of each student council committee work together to produce the show. The general council oversees the technical aspects of the show while the tech department is in control of the lights, camera, and action. The treasury committee controls ticket and snack sales for the show, and the executives lead members and prospective executives.
This year, there were 15 student acts of diverse genres, ranging from jazz singing to classical music to latin dancing to modern k-pop style dancing. They were met with a booming applause and cheering which we were all ecstatic to see. Each and every one of the performers were outstanding, but none of this could've been possible without the amazing backstage crew, the superb tech booth, and the hard work and months of planning undertaken by the dedicated student council executives!
Over 16,000 MOP was raised at this year's benefit concert to be donated to the Macau Society of Registered Psychotherapists (MSRP).
By Students Natasha Ho and Jonathan Ruggles