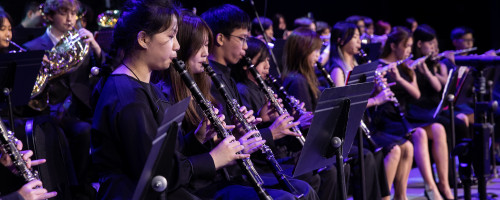 Is there a better way to conclude the school year than being serenaded goodbye?
On Saturday (June 11), TIS held a Summer Concert with the help of some very talented music students. They ranged in age and expertise, but all had a common goal - to sweep the audience off their feet with their talents. As they picked up their saxophones, french horns and clarinets, they did just that.
Music is an integral part of the Arts. It can help develop a child's readiness for school, cultivating their intellectual and social skills as they practise to perfect this body and mind symbiosis.
French author Victor Hugo once said, "[In Beethoven's music] the dreamer will recognize his dreams, the sailor his storms and the wolf his forests." With music, the possibilities are endless, and so are the emotions we can experience. As we listened to the carefully trained harmonies of our students' instruments, we could feel them communicating their enthusiasm and passion for these fine arts.
Ms. Iris Chu led the students through enchanting classical melodies that brought a refreshing breath of summer into the air. With an opening act by the TIS Brass Ensemble, performing the Mountain Song from Kentucky - The Riddle Song, the event was sure to be sensational. This was followed by Cello Solo by Tristan (Grade 3) of Paul Hindemith's Drei Leichte Stucke and Clarinet Solo by Emmi (Grade 11) of Mozart's Divertimento No.1.
As performances from 6 ensembles, two bands and 13 solo acts rolled by, we were transported from the Baroque Era to the Romantic Period, Vivaldi to Tchaikovsky, with each rendition, gracefully blending and complimenting the last. We are incredibly proud of our TIS musicians and want to thank them and Ms. Chu for all the hard work that came with creating such a memorable event. Thank you for showing us what meaningful literacy in the arts looks like and that when we come together, we can create even the timeless Aura Lee. Most of all, thank you for reminding us of the power that a melody carries. We can hardly wait for the next performances!
TIS Summer Concert Full Performance
The International School of Macao (TIS) holds Summer Concert with the help of some very talented students.