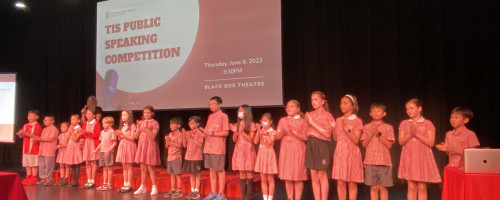 TIS's First Ever Public Speaking Contest
Thinking on Their Feet!
For many people, public speaking is one of the most common fears. But not for our students.
Twenty elementary students participated in the School's first-ever Public Speaking Contest which occurred yesterday (June 9). Honoured guests Mr. Herbert Lee (Founder and President of Macau Toastmasters), Dr. Barry Ip (Executive, L&A at Wynn Palace and Wynn Macau) in place of Ms. Linda Chen (Vice Chairman and Executive Director of Wynn Macau) and Ms. Janet McNab (Managing Director of St. Regis and The Sheraton) attended as the competition's judges.
After the first round of 2-3 minute speeches about one of the 17 Sustainable Development Goals (SDGs) of their choice, ten students moved on to the next round, one that would often call forth several negative emotions, namely nervousness - the Impromptu Speech round.
However, our students did not let the nerves get the best of them and remained calm and focused as they drew a random topic with 1-minute to prepare a 1-minute speech.
The high communication levels of our young elementary students would impress anyone for being able to form well-versed speeches in such a short time and in a highly pressured environment. We are proud that through classroom discussions, reading time and many other forms of participation and support, our students can polish and flourish their art and themselves.
The poise and self-assurance of the contestants wowed the judges, mentioning that their speaking abilities were far advanced for their ages (9-12years old), making it a hard task to pick a winner.
Well done to all 20 contestants for participating and impressing our esteemed judges, who so kindly took time out of their busy schedules to honour our event.
Congratulations Harper for winning first place, Anne and Lily for taking home the second and third place positions respectively