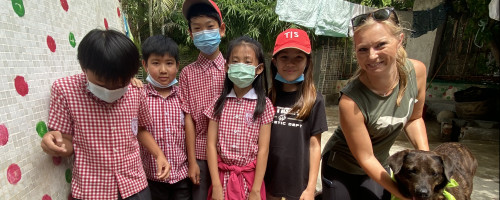 Small Feet, Big Steps: Grade 5 Students Donate to Masdaw
Our Grade 5 students raised an impressive 7,900MOP by selling original fantasy stories they had written in class. For weeks, the students used their creativity to write stories and when finished, each class collected and bound their own stories into books and sold them.
On June 11, five students, accompanied by Grade 5 teacher Ms Marley Henault, delivered the donation to Masdaw (Macau Association for Stray Dogs and Animal Welfare) and in return for their kindness and care they received a lot of love from a couple of wonderful dogs.
The Grade 5 students have had previous experience with Masdaw when, as one of the activities during Experience Week, they walked up to 20 dogs that were up for responsible adoption and foster care, substantiating the impact Experience Week has on our students who make meaningful connections within the Macau community.
Following the example set by our Grade 5 students, you too can help Masdaw by donating to this non-profit organization. No amount is too small and it makes a huge difference in the lives of the animals who are under the care of Masdaw.

Become a Member of Masdaw by signing up here. The membership fee is 50MOP/month payable by MPay, Credit Card or BNU Bank transfer. If you're using a credit card or BNU bank account, please also fill in the form here. Please email the form to info@masdaw.org