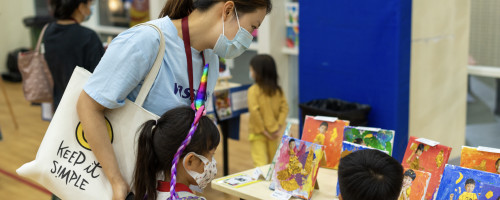 Thursday was a whirlwind of activity at TIS with three school events taking place over the course of the day.
First up at 9 am was Kindergarten Coffee Chat in the Learning Lab where PK Teacher Nick Chignall spoke on the topic "Fathering in Early Childhood Education". Mr Chignall provided valuable insight into the importance of fathering in the development of children and how father involvement affects both mental outcomes and educational outcomes.
Fathering in Early Childhood Education
Our second event of the day was the Spring Concert at MUST Auditorium. Under the guidance of Music Teacher Iris Chu, Middle and High School students showcased their musical talents and impressed the audience with their repertoire of songs.
And finally, the TIS community came together last night to enjoy an evening of art, musical performances, wine and cheese at the annual Arts Night held in the MPR. The event is dedicated to highlighting the amazing art activities at the school and featured creations from all students in Kindergarten to Grade 12.