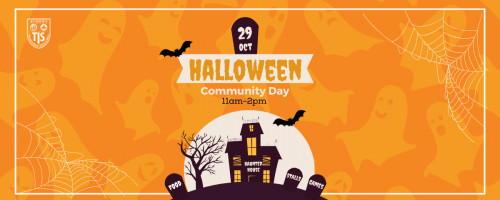 TIS Community Day Brings People Together
"When black cats prowl and pumpkins gleam, may luck be yours on Halloween."
Join us for a fun-filled Halloween-inspired Community Day! Apart from games and activities for families to enjoy, stalls filled with wares from local businesses, tasty treats to eat and of course a Haunted House, Community Days or events such as these positively impact children and our entire school community.
As parents, it's easy to overlook school events, due to the busyness of everyday life. But Community Day offers a wealth of benefits for every family member. For one, it promotes a sense of belonging for all. Coming together, and getting to know each other, brings people together who may not meet in the everyday hustle and bustle of school drop-offs and pickups. Getting to know someone over a hot dog or hamburger is much nicer than a quick "hi" or "bye" in the hallways. It provides downtime for you and other parents and children to really get to know the community in a casual and pressure-free environment.
At TIS, we value meaningful Home-School relationships, and Community Day is perfect to promote building connections amongst our entire community in engaging surroundings away from the classroom. Parents can mix with teachers, deepening their relationship and promoting better communication overall. You'll also have the opportunity to meet other parents from your child's class and other classes, helping to build community spirit.
You may have seen posters around the school encouraging bravery. Hence, students step outside their comfort zone and try something new. Because there are opportunities at Community Day for children to showcase their talents, it provides the perfect opportunity to try new things. Taking a chance in a safe and understanding environment helps build young people's confidence.
An essential element that gets overlooked, is that as a parent, being present at school events provides support to your child. Getting to know and participating in your school community helps your child to see that you are taking the time to understand elements of their school life. This helps your child feel understood.
So, don't be shy; come and see how your participation deepens your relationships as well as having a "spooktacular" time.