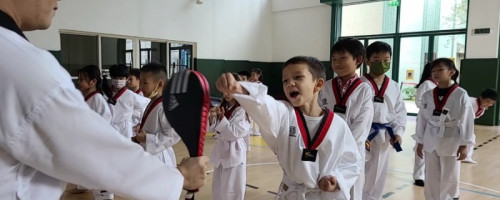 Extra-Curricular Activities at TIS
At The International School of Macao (TIS), we place great importance in holistic education, as we believe in the nourishment of students' intellectual, physical, emotional, artistic and social development. This highly integrated approach allows students to step into their purpose and become future leaders that have the initiative to make meaningful changes around the world. TIS's Extra-Curricular Activities (ECA) are vital in making this educational experience come to life.
"The purpose of ECA is to play a supporting role to TIS's mission statement objectives of developing socially responsible, life long learners able to problem solve, think critically, and make positive changes in our global community through an enriched after school activity program" - Tarran Goodwin, ECA Program Manager.
The School's student enrichment program or ECA provides students with the opportunity to explore their interests and discover new talents while developing essential skills for personal growth. The program offers a diverse range of pursuits that include (but are not limited to):
Athletic - Swimming, taekwondo, archery and golf;

Intellectual - Language acquisition, game development, math and coding;

Creative - Chinese painting and brush calligraphy;

Artistic expression - Musical and choir, improvisation and latin dance;

Social - Volunteer work and yearbook club;

Leadership - Model United Nations, Student Council and Duke of Edinburgh program.
With over 100 ECAs to choose from, students may select as many endeavours as they would like to join and be involved in different assortments of activities. This in turn allows them to develop skills that will be fundamental throughout their lives. Students may improve their self esteem, enhance their communications skills, increase their academic performance, form connections and social opportunities with the broader community. It also creates room to showcase leadership skills and gain real life experience outside the classroom; all of which are essential components that top universities expect from student's applications.
As the program grows steadily with each passing year, TIS continues to cultivate the list of available activities by connecting with external partners whose expertise in distinct ventures can offer students very exclusive opportunities. Examples of these include, indoor flying school at Go AirBorne Macau and gymnastics with a master coach from the world renowned House of Dancing Water. As ECA commence this year on the 17th of October 2022, Mr. Goodwin shares his mission:
"My vision is to continue to expand the ECA program by exploring different and unique activities through engaging more with the local community. I believe collaborating with activity specialists will further enhance our offerings that will benefit TIS and its students."