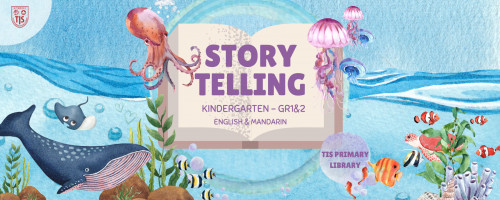 First Storytelling Session: A Successful Deep Dive!
Ms. Mak and Ms. Huang sat down in front of their audience, a group of students from kindergarten, grades 1 and 2, along with their parents who were waiting, with bulging eyes looking at the two teachers, unsure of what was going to come out of this session, but equally excited by the anticipation of their journey ahead: a fantastic deep dive into the Ocean, but right there, in their seats, without leaving the Primary Library.
They were all looking forward to this event, for which parents had quickly registered after receiving the sign up form. However, the 20 quickest parents, in less than 2 hours, had Ms. Orris (the Library team leader) close down the registration, as it was, to her surprise, already full!
And, once the book was open, magic came out! Our parents and students were transported into an imaginary world where they had never been before, through the storytelling mastery of both Ms. Mak and Ms. Huang. This magical duo that read and acted out the Ocean-themed stories, one in English and the other in Mandarin.
This very first Storytelling session took place on December 9 and had the Ocean as the main background of the stories in honour of this year's AIR program, which declared 2022 as the Year of the Ocean. The storytellers opened up the imaginary worlds of our students' minds. Children love it, simply because it's magical to go to a world never before seen and only found in their imagination.
Keep an eye out for the next theme and Storytelling session where children can explore their imagination and open their minds to thinking, while improving their language skills. Listen to vocabulary and expressions learnt in class and repeated by our amazing storytellers that capture the attention of our students as they travel through different emotions that this magical world can take them.