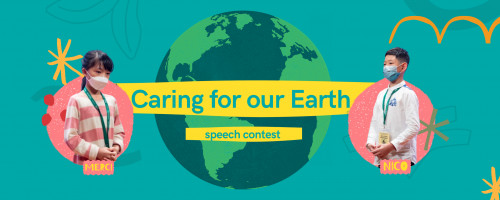 "Caring For Our Earth" Speech Contest
We teach our children to take care of our homes: make the bed, clean up after ourselves, take the shoes off. But how about our home planet?
At TIS, we are concerned about making a better future for our students. We do this by taking action! Showing our future generations how they can be more active in sustainability by teaching them to plant their own produce, to compost and reduce waste, use reusable water bottles, to pick up litter and so on. Programs such as the Tiger Traits and Activists in Residence help us to weave this into our curriculum and daily school lives. We also provide assistance during drop off and pick up to ease traffic congestions and help lessen CO2 emissions around our school campus.
Apart from creating positive routines, it is also important to build character and develop good problem solving skills in our students. As part of our TIS mission, we want to develop students that are able to think critically, make decisions themselves, not just follow (albeit positive) "imposed" routines; so that they too know that they can make a difference.
So, what is it that you're doing to help our planet?
One small change in daily life could make a huge difference! - Nico
You can lead by example. Teach your family and friends on how to care for the earth. - Merci
These are quotes from the speeches of our Grade 4 and 5 students Nico and Merci (respectively) under the topic "Caring for our Earth". These words took both students to the Final round of the 20th Macau-wide English Speech Contest and 24th "21st Century Cup" National English Speaking Competition Macao Regional Contest.
The two students representing our School were selected by Ms Kiat and two other judges at the in-School speech contest on September 17. Nico and Merci thought about how they could make the world a better place and presented well thought out arguments in the speech contest that earned them both Merit Awards on November 6.
Congratulations for having the courage to not only recite your speeches to an audience within a two minute time span, but to also be able to openly speak your minds about how you would help our home planet be a better place.
Read Nico's Speech and Merci's Speech