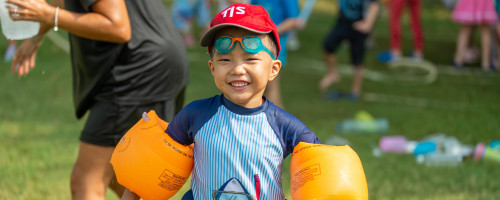 Expressing Your Feelings with Zones of Regulation
Who knew that learning about your feelings could be so much FUN!
Learning to identify and regulate feelings is a big job. Emotions can play an essential role in how we feel and behave. Regardless of age, the ability to recognize and regulate feelings and emotions can be critical for sound decision making and thus help you be more successful in personal and academic development. For our little tigers at TIS, this skill is taught through the Zones of Regulations which enable every child to succeed socially.
"This is a key program that all classes use. It helps support children's mental health as it gives them a common language to express their emotions in a safe place. It's fun and based around colours so it's inclusive, whether they're an English Speaker or not, whether they have other needs or not, it's inclusive, and that's what we love about it" - Hiede Schmidt, Kindergarten Vice-Principal
As part of their lesson about the Zones of Regulations, students from Junior Kindergarten looked into how to identify, express and regulate their emotions and feelings. As a result of the answers to the question "What makes you happy?" teachers recorded their students' responses and developed activities this week inspired by them. Here is the wonderful result:
Outdoor Bubble Play, Water Play, Interactive Pizza Story, and even Ice-cream making! Who knew expressing your feelings could be so beneficial? (The Junior Kindergartners definitely did know!)
What are the Zones of Regulations?
An original framework and curriculum (Kuypers, 2011) that develops awareness of feelings, energy and alertness levels while exploring a variety of tools and strategies for regulation, prosocial skills, self-care, and overall wellness.
To identify their feelings, there are four colour coded zones that help students simplify how they think about and manage their emotions by sorting them in each zone. The colours are a great visual aid to help simplify feelings into a universal language that can both help students regulate their emotions and for teachers to support them.
Teachers are then able to help students come up with strategies to manage these emotions and problem-solve. "Teachers will ask "What can I do if I'm in the red zone?" and together they will come up with strategies and say, for example, that they can do Yoga, they can do some breathing exercises, maybe they need a cool down time. If they're in the blue zone and feeling tired, maybe they need a healthier snack or a longer rest time, or they might just need a big hug and some kindness. It helps children identify their emotions, but also identify what they need and the help they require to manage and regulate their emotions."
The framework is used throughout the 3 years of Kindergarten, and a clear distinction can be found in TIS Senior Kindergarten as they are not only articulate in expressing themselves and what they need, but also skilled in identifying these emotions in others "We get feedback from parents saying their child has started using that language at home, they might say to their mother "Mom you must be in the blue zone because you are taking a nap" - said Mrs. Schmidt
Learn more about Zones of Regulation here.