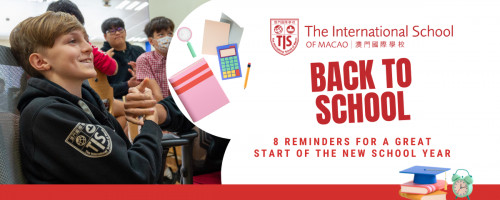 8 Reminders For A Great Start to the New School Year
As classes begin to start soon, a lot of information has been shared with parents via email. Therefore, it's important to check your emails regularly to ensure you stay informed of School updates, news and your child's academic progress. If you have not received any emails from the School in the last 7 days please don't forget to check your SPAM folder first. If you still can't find any emails, please email gibbonsupport@tis.edu.mo to let us know.
Stay Connected With Us! Click here to learn how you can download the TIS App to your phone and stay connected with your child's academic life with Seesaw, Google Classroom and Gibbon!
Here are 8 reminders to make this a great school year:
Daily Green Health Code Upload and NAT Requirements for 1st Day of School
In compliance with DSEDJ and Macau Health Bureau's requirements, it is mandatory that all students present or submit a Green Health Code (and wear a mask) every day before entering the school.

• NAT: As required by DSEDJ, all students must undergo a Nucleic Acid Test (NAT) within 72 hours of the first day of school. The negative test result must be ready for inspection and uploaded onto Gibbon on the day. Please book your test through this link. In case you have an issue booking the appointment, please try to enter your Chinese name (if applicable) and in the English/Portuguese name field enter code: AA0157.

• Grade 7-12: Students show their green health code on their devices as they enter through school security and temperature check. Teachers will assist students in uploading onto Gibbon during the first day of school.

• PK, JK, SK and Grades 1 to 6: Parents of students in these grades will need to upload their child(s) green health code to Gibbon before 8:30 am on a daily basis.

For the first day, parents will be required to upload the health code to include the NAT test result in order to fulfill DSEDJ and CDC prevention requirements. We strongly suggest that parents upload in advance to avoid Gibbon system overload. Failure to upload the health code will result in the child being taken out of class and placed in a separate room, under adult supervision, while the parent is contacted and the green health code is provided. Once cleared, the student is able to return to the classroom and resume classes.

For detailed instructions on how to upload your child(s) health codes to Gibbon please click here.

Wednesday, August 31
Grade 7-12 Orientation for new students to TIS (9:00 - 11:00)
LOCATION: RM4520, 4th Floor, North Wing

NOTE: This is for students NEW to TIS ONLY.

Thursday, September 1
Grade 1 to Grade 6 - Orientation (13:00-15:00)

Grade 7 to Grade 12 - First Day of School (For new and existing students) All Students are expected to attend. Students must come to school in their school uniform.Gibbon Access & Parent ID's
Click here for information on requesting the 2022-2023 Parent ID Cards from August 31.

Gibbon will be available from Wednesday, August 31. Families can check homeroom assignments and request new Parent ID Cards. Existing families can use their old ID cards until the end of September. Temporary IDs will be issued to new families by their homeroom teachers or you can request a temporary ID from the NW Main Office. For Gibbon support, please email gibbonsupport@tis.edu.mo.

School Bus
Don't forget to apply for the school bus if applicable. Students need to reapply each year (this is on a first come first serve basis and subject to availability). Please click here for more information

Lunch Order Option
The September lunch order form is now available on our school website. For more information on lunch options at TIS please click here. Students on half day start up do not need to order lunch.

Future Bright Contact Information: tis@futurebrightgroup.com or +853 2899 0083 (TIS cannot connect you internally. You must call their number directly).

Uniform Store
Click here for TIS Uniform Guidelines
Opening Hours: 8:15-11:00 & 14:00-15:45 (Monday to Friday)
Enquiries: uniformstore@tis.edu.mo

Photo Permission
TIS seeks parental permission before photographing or making any recordings of your child during the upcoming school year. Parents can update their privacy choice by logging onto Gibbon. Here are the guidelines on how to update your privacy choice.
If you have any questions, please contact the main office at 2853 3700.
Remember, you don't have to wait until the first day of school to ask for any help - the School is open and the team is happy to address any questions and concerns you may have. Connect with us!

8個小貼士助您開展繽紛新學年

隨著開課日子臨近,早前學校已透過電子郵件的方式與家長分享了許多資訊。因此,定期檢查電子郵箱十分重要,目的旨在確保家長了解學校最新情況、訊息以及孩子的學業進展。若家長在過去7天內並未收到學校發出的電郵,請往郵箱的垃圾郵件夾中查看。如若查看後仍未能找到由學校發出的郵件,請發送電郵至 gibbonsupport@tis.edu.mo 讓校方知曉。
點擊接收學校訊息!了解如何下載澳門國際學校手機應用程式,並通過Seesaw、Google Classroom以及Gibbon系統緊貼孩子的學習生活。
8個小貼士開展繽紛新學年:
開學日當天上傳核酸檢測結果及每日上傳綠色健康碼
根據澳門教青局及衛生局要求,全體學生每天上學前必須出示或提交綠色健康碼(並佩帶口罩)。

• 核酸檢測結果:根據澳門教青局要求,全體學生必須在開學日當天持有72小時有效之核酸檢測陰性結果。核酸陰性結果必須為可檢查並在開學日當天上傳至Gibbon系統。請透過此鏈結預約。若預約遇困難,請嘗試輸入中文姓名(如適用)並在英文/葡文姓名欄中輸入代碼:AA0157。

• 七至十二年級學生:學生在進入校園時請接受體溫檢測並向保安員出示綠色健康碼。開學的首天,班主任會在課室協助中學生將核酸結果上傳至Gibbon系統。

• PK、JK、SK以及小一至小六學生:就讀以上年級的學生家長需要每天早上8:30前將孩子的綠色健康碼上傳至Gibbon系統。

開學日當天,家長需要為子女同時上傳綠色健康碼及核酸陰性結果,以滿足教青局及衛生局的開學要求。學校強烈建議家長提前上載資料,以避免Gibbon系統因過載導致上傳困難。未能按時上傳健康碼或上傳失敗的學生會被帶離課室,在成年人陪同下留在等候室內,並聯繫家長進行上傳,完成上傳後方能返回課室上課。
請點擊此處查閱如何上傳孩子健康碼至Gibbon系統

8月31日(週三)
七至十二年級新生迎新日(上午9:00 至 上午11:00)
地點:北翼4樓4520號室
請注意:僅限轉校新生出席

9月1日(週四)
小一至小六學生:迎新日(下午13:00 至 下午15:00)
七至十二年級學生:正式開學日(新、舊學生適用)。全體中學生必須穿著整齊校服回校上課。

Gibbon系統權限及家長證申請
請自8月31日起點擊家長證申請指南了解如何申請2022-23學年家長證。

Gibbon系統將於8月31日(週三)重新開放。家長可透過系統查看孩子功課以及申請新學年家長證。舊生家庭可於9月份繼續沿用上一學年的舊證,而新生家庭將由班主任派發或親臨北翼辦公室領取有效期為一個月的臨時家長證。遇上Gibbon系統問題需支援的家長,歡迎透過以下電郵聯絡 gibbonsupport@tis.edu.mo。

校巴
有需要的家庭敬請在開學前申請校巴服務。學生需每年重新申請(名額以先到先得方式獲取)。點擊此處了解更多。

訂購午膳
9月份的午膳餐單已可在校網查看。請點擊此處查看澳門國際學校午膳餐點。半日制的學生無需選購午餐。

澳門國際學校佳景集團食堂聯絡資訊:tis@futurebrightgroup.com 或電話 +853 2899 0083(學校內線無法直接轉駁,家長需自行致電)。

校服
點擊此處了解澳門國際學校服務規格

售賣處營業時間:上午8:15 至 中午11:00 以及 下午14:00 至 15:45(週一至週五)
查詢:uniformstore@tis.edu.mo

學生照片肖像權
在即將展開的新學年前,澳門國際學校欲為學生進行拍攝或錄影前,先徵求家長的同意。父母可透過Gibbon系統變更孩子的私隱選項。請查看肖像權指南了解如果更新私隱選項。
若您有任何問題,請致電2853 3700與辦公室聯絡。
若家長遇上任何問題,無需等開學日當天尋求協助 – 學校辦公室現時已開放,我們的團隊很樂意為您解答任何問題或疑慮。歡迎隨時與我們聯絡!