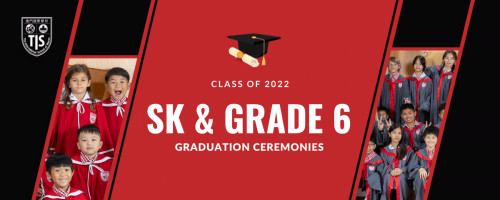 Another milestone for our TIS Tigers!
Saturday, 17 September, marks an important event for the Class of 2022's SK and Grade 6 students. Having missed out on a Graduation Ceremony (due to Covid-19 restrictions back in June) to celebrate the transition from Kindergarten to Grade 1 and from Grade 6 to Middle School, TIS moved this significant milestone so that our younger students could cross the stage to receive their certificates in front of proud parents and friends.
SK Graduation Ceremony
This meaningful milestone celebrates children's learning and achievements throughout their Kindergarten years and marks the welcoming into a new and exciting period of growth in their school journey. Come and mark this important occasion with your children, classmates and teachers!
Save the Date!
Saturday 17 September 2022
| | |
| --- | --- |
| CLASS | TIME |
| SK1 & 2 | 9:30am - 10:30am |
| SK 3 & 4 | 11:00am - 12:00pm |
Grade 6 Graduation Ceremony
It's time to acknowledge an exciting new step in your child's education journey and the significance of reaching an important goal. Grade 6 Graduation celebrates all your child's achievements in their schooling to date and creates fond memories for each child to cherish as they grow.
Moving from Grade 6 into Middle School marks the beginning of new routines, teachers, classrooms and friendships they will form. Graduation is the perfect way to celebrate this right of passage as our students farewell childhood and move into this significant next phase.
Save the Date!
Saturday 17 September 2022
| | |
| --- | --- |
| CLASS | TIME |
| 6-1 | 1pm - 2pm |
| 6-2 | 2pm - 3pm |
| 6-3 | 3pm - 4pm |