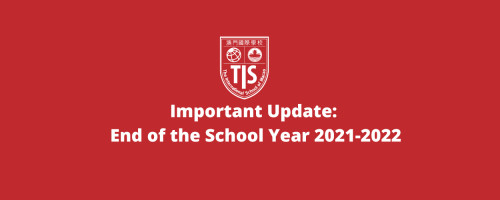 End of the School Year 2021-2022
22 June 2022
Dear Parents and Guardians,
Earlier this evening, DSEDJ announced that due to the ongoing pandemic prevention strategy, all schools would begin summer holidays immediately. Due to the few days remaining in school calendars, the 2021-22 academic year is now considered complete for all schools in Macau.
In compliance with DSEDJ and the Health Bureau, I must announce that the school year at TIS is also finished. There will be no more online classes or assessments. Students will not be penalized due to this closure. Teachers will use work that has already been completed to professionally determine the students' final marks.
We understand an abrupt end to the school year might cause some disruptions and can be an emotional time for our students. We will strive to seamlessly wrap up the school year providing report cards on time as well as opportunities for students to say goodbye to their classmates and teachers before the summer holiday.
Class Wrap-Up Sessions
Kindergarten and Primary Classes should have a final Zoom session with their class (VPs to coordinate times)

Any Secondary Homeroom teachers who have not yet had a final meeting with their class to allow students to say goodbye to their classmates may hold an additional final zoom session tomorrow.
Report Cards
All report cards will be published online on Gibbon as scheduled on Wednesday, June 29, 2022.
Yearbook
This year's yearbook will be distributed in August. Further arrangements will be made by the School to have the Yearbook sent to families who have left Macau.
School Photos
All orders that have currently been placed will be fulfilled. If you are leaving Macau, please contact us at communications@tis.edu.mo and we will ensure that the photos are forwarded to you. Additional order forms will be distributed by email.
Items Left at School or Need to Return to School
Students who need to pick up items left at school will be allowed to do so next week. A separate schedule will be posted to follow pandemic prevention guidelines. Please do not go to the school this week as it will not be open to students. Students who need to return items can do so when school resumes.
Summer Camp
As of now, we hope that Summer Camp will be able to continue or to be only delayed slightly. More details will be shared later.
TIS as a community will continue to support our students, staff and families to weather yet another storm. We will continue to keep you informed of the situation as it develops and to offer support whenever and however we can. If you have any questions or concerns, please do not hesitate to contact communications@tis.edu.mo.
As a leadership team and as a whole school, we are disappointed that the academic year must end like this. However, we stand together as a TIGERS community and as a MACAU community. We want to thank you for a wonderful year and we trust that everyone will stay strong and stay safe.
本信函的翻譯版將於稍後發送
Yours sincerely,
Howard Stribbell
Head of School
Please click here for the official letter

2022年6月22日
關於2021-22學年結束的重要訊息
致親愛的家長及監護人:
因應本澳目前仍然處於疫情預防狀況,為配合特區政府整體的防疫工作以及本學年現已接近尾聲,考慮到短時間內仍未能恢復面授,為此,今天傍晚時份澳門教青及青年發展局宣佈自即日起提早結束2021-22學年。
根據教青局及衛生局規定,本人現宣佈澳門國際學校自即日起結束本學年。原定之線上學習課程或網上評估亦告一段落,學生不會因這段時間的停課而受影響。老師會根據學生已完成的作業進行專業評估,最終制定學生的期末分數。
學校明白突然結束本學年可能會構成一些困擾。然而,學校承諾準時為學生提供網上成績表以供查閱,並預留時間讓學生及老師在學年結束前再次共聚。
班級學年歡送會
幼稚園及小學各班將進行Zoom線上學年歡送會(由副校長協調時間)
任何尚未為班級進行Zoom線上學年歡送會的中學部班主任,可於明天提供一場額外的Zoom線上會面,讓學生有機會與同學們再次共聚。
成績表
全體學生可於2022年6月29日(週三)透過Gibbon系統查看期末成績表。
年刊
本學年的學校年刊將於8月份發放。學校會為離澳家庭另作安排寄送。
學生照片
所有完成訂購程序的學生照片將按計劃稍後提供。若您的家庭即將離開澳門,請透過以下電郵與學校聯絡 communications@tis.edu.mo,我們會確保將照片轉送給您。額外的訂購表格將透過電郵發放。
尚有物品遺留在校或需要回校者
任何學生需要回校取回物品,可參考學校稍後公佈的回校時間表,於下週開始到校取回物品,以遵循防疫守則。由於校園本週仍未對學生開放,因此切勿於本週回校。而需要向學校歸還物品的學生,可留待新學年上學後交還。
暑期夏令營
至目前為止,學校仍然希望夏令營可以如期展開或僅稍作推延。更多細節將於稍後公佈。
作為社區的一份子,澳門國際學校將繼續與學生、教職員以及在校家庭攜手渡過另一個難關。隨著疫情發展,學校會持續為大家提供最新消息,並隨時提供力所能及的支援。若您有任何疑問或憂慮,請隨時透過電郵與我們聯絡 communications@tis.edu.mo。
作為學校的領導層,我們對於學年在這種情況下結束感到失望。然而,我們會繼續秉持「老虎精神」與澳門社區共同抗疫。十分感恩擁有這一美好學年,我們堅信大家都能堅守如初,時刻保持安全。
此致,
Howard Stribbell
澳門國際學校校長
2022年6月22日 - 澳門國際學校校長Howard Stribbell發送的學年結束信函
(* 註:如中、英文兩個版本有任何抵觸或不相符之處,應以英文版本為準。)