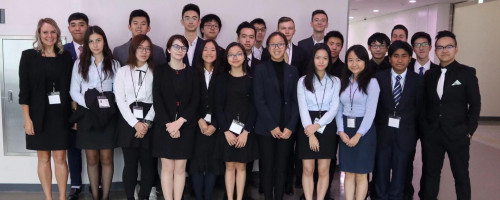 Learning the Art of Negotiation on Global Issues Through Model United Nations
Howard Tong (Grade 12)
On November 29th to December 1st, TIS Macao sent a delegation of 21 middle and high school students to the Yale Model United Nations Korea 2019 Conference. Over the course of three days, the students listened, cooperated, and debated with other students from all over the world on various global issues.
Model United Nations (MUN) is an educational simulation in which students learn about diplomacy, international relations, and the United Nations. Students who participate in MUN conferences are known as delegates. They are placed in committees where they represent different countries.
During the conference, delegates worked together to create "draft resolutions" to combat given issues. This was done by brainstorming appropriate actions to respond to these issues, while at the same time ensuring their plans were persuasive and appealed to the majority of the other representatives. After these resolutions were approved by a board of external advisors, the students lobbied and debated in their committees in an attempt to convince others that their resolutions were comprehensive solutions. At the end of the conference, the delegates then voted on these written policies, with the goal of passing them with a majority vote.
MUN conferences are often known for the quality of student delegates with varying difficulty levels, and as such are open to everyone regardless of experience. Participants in MUN are given the chance to expand their world views, an opportunity to build self confidence, and to learn to cooperate with other students in an unfamiliar learning environment. Additionally, MUN enables its members to not only identify and demonstrate their understanding of global issues, but to make responsible decisions by developing their negotiation and conflict resolution skills for school and in real life.
In my advanced level committee, a fellow student and I debated on two topics, Peace in East Asia and Drone warfare. We had heated debates with 28 other delegates over issues such as the Korean Peninsula, ethical use of unmanned aerial vehicles (UAV) in conflicts and the disputed Diaoyu islands. In the three day sessions, we successfully passed 3 of the 4 resolutions in hopes of resolving those issues.