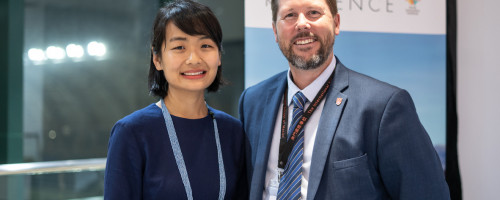 Protecting our Planet is Everybody's Business!
Songqiao and Inspire Citizens may have left the building, but our work at TIS for learning about sustainability, raising awareness of climate change and preserving biodiversity has only just begun. Songqiao was most impressed with the ideas and work our teachers and students have already done during the first term of school. Songqiao's ability to connect with all ages was remarkable and her passion for teaching us how we can all do more to co-exist with nature has definitely left a lasting impression on our students as they continue with their environmental projects.
The cocktail and fundraiser evening was a great success. Songqiao shared her story with staff, parents and guests from the media and local corporations on how she became involved with advocating environmental issues and shared experiences about her expeditions to the Antarctic and the Amazon.
Our goal this year is to raise $20,000USD ($161,500MOP), of which 70% will be donated to the Earth Innovation Institute to support their work in preventing deforestation in the Amazon. The other 30% will be donated to Songqiao's charity, Wildbound, in support of its youth ambassador program showcasing actions at the 2020 conference in Kunming on biodiversity.
Already we have raised $36,310MOP from the money generously donated at the cocktail fundraiser and the Grade 1's Amazon Rainforest Tours. Help us reach our goal by supporting upcoming student-led fundraisers or by dropping your cash/cheque donations into the donation box located in North Wing Office. Cheques can be made payable to "The International School of Macao" with 'Saving the Amazon' written on the back of the cheque. Your generosity will make a difference to our planet!
Here's a short behind-the-scenes video filmed by TIS Alumni Karen Tho. Watch this space for the full length video of the two-day event.