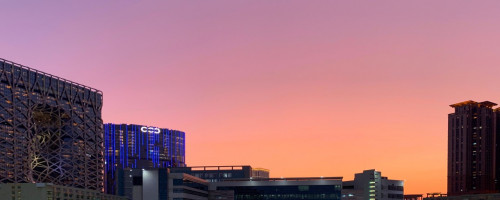 TIS Hosts SCISAC U15 Soccer Tournament For First Time
On Nov 7, 2019, 150 athletes and coaches descended upon MUST stadium for the 2019 SCISAC U15 Soccer Tournament. This marked the very first time TIS has hosted this event since the league's inception 12 years ago. Players from Chongqing, Nanjing, Xiamen, Hong Kong, and Taichung joined our own Tigers in the premier soccer tournament for our middle school sports program.
In 3 days, the 12 boys and girls teams played a total of 40 games and there were some incredible soccer action throughout. Against a beautiful backdrop of Cotai resorts to the south and Taipa Grande to the north, there was a little ecosystem of middle school soccer players competing for SCISAC glory.
When the dust had settled, Nanjing International School had taken the boys tournament with a 4-3 victory over Hong Kong Academy, in penalty kicks. On the girls side, it was yet another TIS vs HKA championship game as it has been the case so many times in volleyball and basketball. Although TIS lost that game 1-0 to HKA, it was the best finish ever for a TIS girls soccer team at SCISAC. What an incredible accomplishment for our jr girls soccer team!! Congrats players and coaches!
https://youtu.be/RswvUDkkAw4