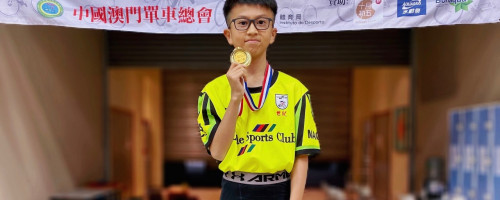 Practice & Persistence Wins Gold at Macau Indoor Cycling Tournament
Congratulations to Grade 6 student, Austin Che who competed in the Macau Indoor Cycling Tournament 2019 (澳門室內單車錦標賽2019) last Saturday October 19.
Austin was crowned champion in the U13 Single Artistic Category, which requires athletes to perform up to 30 figures (tricks) in a 5 minute programme inside an 11m x 14m arena. Austin began competing in the sport a year ago, he belongs to a club in Macao where there are only 8 members, very small compared the clubs they compete against which may have up to 100 members.
Asked what tricks he performs, "I can stand on the handlebars and the seat to do tricks. When I first started I used to fall off, one time I fell off my seat when I was doing the star trick, I fell and hit the back of my head. I practice a lot and I'm much better now so I can try harder tricks."
The 4th and final round of the Macau Indoor Cycling League will take place this Saturday (October 27th). We wish Austin the best of luck in his future competitions.
References:
1st Round on April 28: Champion for U13 Single Artistic Cycling
http://www.macaodaily.com/html/2019-04/29/content_1349009.htm
2nd round on May 26: Champion for U13 Single Artistic Cycling
https://www.exmoo.com/article/109349.html (Austin pictured in one of the individual photos)
3rd round on June 2: Champion for U13 Single Artistic Cycling
https://www.exmoo.com/article/109583.html
4th round on October 27: Champion for U13 Single Artistic Cycling
https://www.exmoo.com/article/129207.html
**Update** Austin won the 4th and final leg of the competition and has been crowned the overall champion in the U13 Boys Single Artistic Cycling category for the year. Well done Austin!!! ****