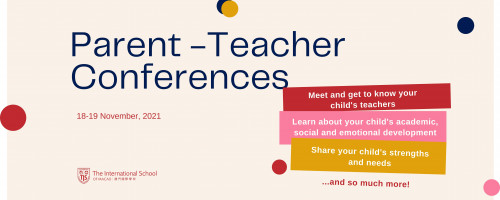 The importance of Parent-Teacher Interviews
We are so happy to be able to meet with you during the upcoming Parent Teachers Interviews on 18 & 19 of November, 2021!
Parent-teacher interviews are a great opportunity to:
meet and get to know your child's teachers
learn about your child's academic, social and emotional development

help your child's teachers understand more about your child

share your child's strengths and needs

work with the teacher to help your child do well in school.
Here is some helpful information to assist you whether you are meeting face to face or online. Given the time restraints, we will need to limit the interview time, however, our teachers are always eager to meet with our parents during the school year. If you need more time to discuss your child's learning, please be sure to book a follow up time with them.
For more information about meeting teachers face to face, please click HERE.
For more information about meeting teachers via online conference, please click HERE.