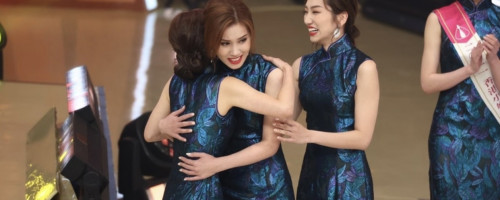 Sabrina Mendes: Miss Hong Kong 2021
TIS alumna Sabrina Mendes (aka Sabina Mendes) is the embodiment of "beauty and brains". On the same year, the 22 year-old Chinese-Portuguese not only graduated from the University of Toronto with Honours, double majoring in biochemistry and human biology, but she has also won the 49th edition of the Miss Hong Kong Pageant, taking home the crown on September 12, 2021.
TIS reached out to her to find out what are her fondest memories at TIS, what motivated her to compete in the pageantry, what her next steps are and what advice she has for young ladies today.
Congratulations, Sabina, for being crowned Miss Hong Kong 2021. What was your motivation for participating?
Participating in the Miss Hong Kong beauty pageant has always been my childhood dream. I saw the right timing for me to join since I just graduated this year at the University of Toronto and finished my Honours Bachelor of Science, double majoring in biochemistry and human biology.
To me, beauty has no standards. I remember a famous quote from Audrey Hepburn saying "the beauty of a woman is not in a facial mode, but the true beauty in a woman is reflected in her soul." There are just so many ways to define what beauty really means. But one thing that is for sure, is that beauty is not just in the face. It is not just physical attractiveness. It is bravery, showing kindness to others, being thankful and grateful, being unique and talented, and of course, just being yourself.
Has this always been a dream for you?
Yes. The pageant has always been a dream. I started watching Miss Hong Kong on TV when I was six and since then, it has become one of my favorite TV programs. I grew up in a single-parent family and my mom takes care of both my sister and me. She is someone I look up to and is my role model, hero, and idol. She is also a beauty queen herself and to continue this family history, I chose to step out of my comfort zone and go for something I have always wanted to try. I also wanted to do something to make my mother proud and thank her for her unconditional love and support.
What's next? Can you tell us your next steps as Miss Hong Kong 2021?
I hope to channel my altruistic nature into doing charity and volunteer work, focussing on diseases and the pandemic. I personally have a strong passion for medicine. I hope to bring together everyone and unite for charity so we can all build a better and stronger community. Other than charitable work, I will also be in variety shows, TV programs, and soon, TV drama series and movies.
Tell us about your journey after TIS. What other diplomas and degrees have you completed?
After TIS, I went to UBC (University of British Columbia) for a while, then transferred to the University of Toronto because I really wanted to experience living elsewhere and see how that felt. Toronto gives off a feeling of a young, energetic, and busy city, mainly because I lived downtown. The pace is very fast, but that also pushed me to be a very self-disciplined person and allow me to focus on my studies at all times. This discipline helped me achieve an Honours Bachelor of Science degree with a double major in biochemistry and human biology.
Where are you working now? Or do you have any projects ahead of you?
I am an artist at the Television Broadcast Limited (TVB) right now, which means I will soon be in variety shows, reality shows, TV drama series and the like.. Ahead of me, I will be emceeing for the annual TVB Anniversary Gala Show. This is a huge show that everyone looks forward to every year, so that will be a new challenge for me. At the same time, I can't wait to experience it and possibly make some new friends there too.
The media mentioned that you want to become a Doctor...when did you decide that this was the career for you? Are you going to pursue this career or have other plans?
While I was growing up I always loved biology. I was fascinated with figuring out how cells work together in the body. It is stimulating and interesting. At University, I became more and more interested in biochemistry, which ties together the human body and the actual mechanism that is going on inside the body. It also touches a lot on genes and genetics. Besides these topics, I took virology, immunology, and physiology courses and found that I love case studies. That is when I realized I wanted to become a doctor and provide my patients with lifelong happiness. This career is something I felt was worth putting in the time and effort. It gives me the ability to help people. It will make others happy, but in the end, it makes me the happiest person.
What piece of advice would you give other young girls today?
I hope to empower teenagers and encourage them to speak out about their dreams. I was never perfect. When I first came to the interview for Miss Hong Kong, I did not have much confidence and was not mentally ready for this whole pageant thing. Despite these factors, I still came. And I still am not perfect now, but the thing is, you have got to believe in yourself and just hold on tight to your dreams. No one is really in control of your life and nobody stops you from making a decision you truly want to make. Your future is within your own hands, so live your own life. I want aspiring queens to know that there will be many opinions on this path to chasing their dreams, both good and bad. However, those opinions cannot affect the choices you make unless you let them. So stay true to yourself, believe in yourself, never give up, and live with no regrets.
How did TIS help to prepare you for university and life in general after high school?
I graduated with an Alberta High School diploma at TIS and moved to Canada immediately for university. The Canadian curriculum studies emphasize creative, performative, interactive, and imaginative learning. This prepared me well for University and made the transition much smoother and more manageable. TIS has given me the confidence I need to continue to succeed at University. In addition to that, TIS is an international school with students from all over the world, which promoted me with a global outlook. I have a broad perspective and a global mindset in our globalised world. Students from different backgrounds provide students with a culturally diverse space and fosters connections with people of different cultures
What are your fondest memories of your years spent at TIS?
I love field trips and every years' experience-week trips. I can vividly recall every trip I went on with the class of 2017 and accompanying teachers. Traveling elsewhere brings us all out of the classroom and to see the world. It helps us better understand this world and provides experiences that define our place and purpose. I have also made some lifelong friends and established lifelong values and priorities.
Where do you see yourself in 5 years?
I can think of two possibilities for now. Either I will still be in this industry and busy filming movies and dramas, and hopefully, participating in great films, or I will have already switched my career to pursue medicine.