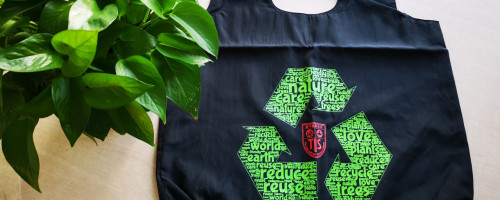 Saving the Environment - Grade 3 student has it in the bag!
Inspired by this year's Activist-in-Residence (AIR) program, Grade 3 student Harper wanted to play her part in helping the environment. During a brainstorming session around the family dinner table, Harper threw around a few ideas and with her mother's helpful advice, they settled on designing a reusable shopping bag that they could sell to raise money for the school's AIR charities.
Excited with her new project, Harper presented her proposal and design to Mrs. Kiat, who helped her embellish the already great design. From concept to final production, the project took roughly two months. Harper said, "I couldn't have done it without the kind support from my mum, Mrs. Kiat, and my family."
After meeting Activist-in-Residence, Songqiao Yao in November, Harper is even more passionate about environmental issues. "Songqiao has done an amazing job with helping the environment." Harper said. "Without a healthy environment, we wouldn't be alive!" Harper hopes her bags will help phase out single-use plastic bags and hence reduce the amount of litter in our community.
Just in time for Christmas, Harper's bags will go on sale next week in the North Wing lobby from 2:45-3:45pm. There are only 100 bags, so get in quick! The bags will sell for MOP100 each and all proceeds will be donated to the Earth Innovation Institute and their work to stop the deforestation in the Amazon rainforest, and also Songqiao's student ambassador program, Wildbound which will showcase TIS student actions at the United Nations conference on Biodiversity in Kunming China in October 2020