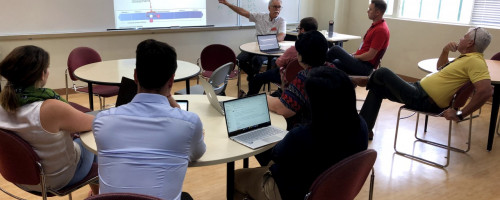 TIS Welcomes Alberta Visitor
Last week, TIS welcomed Mr Tim Coates, the former Diploma Examination Manager for Alberta Education, who provided professional development to secondary teachers on building reliable and valid assessments. His expertise and advice was highly appreciated by our secondary teaching staff.
Tim had this to say about his visit to TIS:
"I have thoroughly enjoyed my experience working with the teachers at the TIS Macao. They have been very welcoming and courteous. The teachers of this school demonstrate great concern toward ensuring that students enjoy the best possible educational experience. I have seen evidence of many positive things being done toward that goal and wish them all the best in their professional growth. The collegial atmosphere in the school is very evident. The parents and students of TIS Macao are very fortunate to have such dedicated teachers providing professional service to the school. My experience of working with the TIS Macao teachers has truly been one of the highlights of a 38-year career as an educator."
Tim Coates is an educational consultant who has provided more than 20 years of service to the Ministry of Education in Alberta, Canada. He began his career in 1994 as a grade twelve Diploma Examination Manager. From 2005 until 2015, Tim was the Director of the Diploma Examination Program Branch. He also worked for several years in the ministry developing curriculum for high school social studies. His final service to the Ministry of Education was as the coordinator of a Classroom Assessment Capacity project.
Since 2009, Tim has served as an instructor at the University of Alberta, teaching a course in classroom assessment to students training to be teachers. He has offered many professional development presentations throughout Alberta and on occasion in the United States. He has been featured as a keynote speaker at district professional development days and conventions. Tim's educational interests and expertise focus on how to make assessments that engage students and provide meaningful information to support student learning.