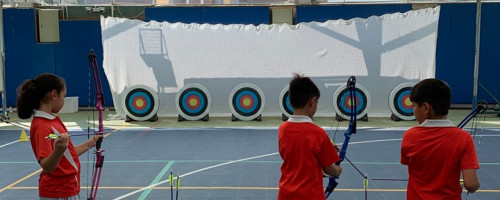 By Howard Tong, Grade 12
TIS has recently integrated archery into the Physical Education (PE) curriculum and started teaching students not just a new sport, but also lessons needed in life. Working with the National Archery in the Schools Program (NASP), our PE department received certification to teach archery in August before the current academic year began.
TIS has opted to introduce this sport to the students from grades 4 to 12 as a method to teach them life skills such as focus, self-control, individual confidence, discipline and patience which is applicable in the classroom and in life. It is a great sport for all because archery does not discriminate based on athletic skill, gender, size or academic ability.
Mr. Lockwood, who spearheaded the archery program at TIS, said, "I hope archery will grow rapidly at TIS because it is a valuable life skill that students can learn and benefit from".