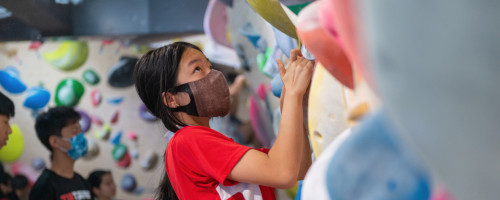 Outdoor Education: The Physical and Mental Strengths of Boulder Climbing
Bernice carefully inspects the wall in front of her. She's concentrated, mentally mapping out the different paths she can take to the top. Each step will determine the next, and she ponders as she rubs her hands together with chalk. She has a plan. She is ready.
Taking on the colourful grips in front of her, Bernice takes the first steps and grabs on to the grips of the path of a V2 boulder. She quickly makes her way up and gets herself a meter off the ground in no time. She's had some practice before: this is not the first time the grade 9 Outdoor Education students were there. But, there's no perfect formula no matter how many times you've done this before and, halfway through, she realizes she needs to re-strategize. So, she stops, hanging in there, without releasing her grip while rethinking her path. She hears Mr Leguerrier's voice from the back of her head, giving helpful instructions to lead her to a possible route. Finally, she's "in the zone", and a few moments later, with the strength of her legs, she pulls herself up, stretching her left hand to reach the top brown boulder and joining in her right hand. She hears Mr Leguerrier count "One...two...three!", and that's her cue to drop down after conquering the V2 path. Now, on to the next challenge.
A form of free climbing performed on small rock formations, boulder climbing is fun for these students while they have their flexibility, endurance, coordination, power and strength tested. These classes offer a highly motivational and supportive environment, with agglomerations of classmates around the same problem, each taking turns trying to reach the top via the path they continuously decide to choose while on the wall or suggested by their peers. The atmosphere is great and helps build confidence for these students in overcoming obstacles.
But the benefits of boulder climbing don't stop at the physical traits. The mental workout required of these students to navigate the walls enhances their problem solving abilities as they find solutions to the challenges they encounter with each step.
They learn to succeed through failure, and to be courageous enough to repeat and fail again, because they know that through trying different routes they can solve problems that will lead them to success.