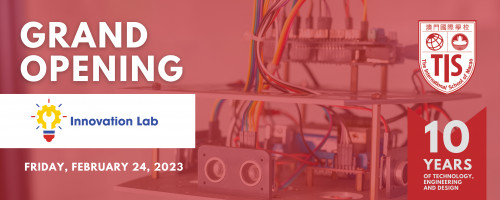 Celebrating 10 Years of Technology, Engineering and Design
The International School of Macao (TIS) is proud to announce the grand opening of the Innovation Lab.
In the past, the lab has fostered many innovative projects, including the establishment of the e-NABLE group, where students build prosthetic arms for those in need, and the development of robots for competing in national and international robotics competitions.
This newly renovated space features state-of-the-art tools and advanced equipment that, with the support of our Technology Department Head and Robotics Technician, assist our students with learning new concepts, generating new ideas and creating new designs. Students and teachers can access the lab and all its materials by booking time before, during or after class times.
We are thrilled to share the new phase of our Technology, Engineering and Design at TIS, as we continue to create a world of opportunities for our students and empower their learning.