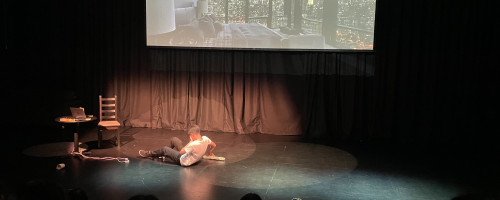 Creating A Play In A Day!?
A little pinch of chaos, a LOT of creativity and heaps of fun! A Play-In-A-Day is exactly what it sounds like: stage a play, in only a day.
On Friday, February 10th at 12 p.m., 5 student playwrights received the following instruction: write a 10-minute play about memory that includes the line "We'll always have Paris" and use a duster as a prop. At 7 a.m. the following day, they submitted their plays to their directors and by 7 p.m. they were rehearsed and ready to perform their plays in front of a live audience composed of teachers, parents and friends.
Forty-one (41) secondary students participated in the first - of what we hope to be many - editions of a Play-In-A-Day at TIS. Students took on roles of playwrights, directors, actors, designers, technicians and box office staff - all the moving parts to stage a successful play. The challenge here was time, as time is what they lacked.
But what these students lacked in time, they made up for in creativity. Working in impromptu pieces like this, students show that through collaborative work, they can accomplish what usually takes MONTHS of work in only a day! They really showed us how, with their commitment to the art form, through teamwork and discussion, they learned new skills, had a lot of fun and were able to pull off an incredible performance.
Congratulations to all the students for putting together a fantastic show! A remarkable display of confidence and of course team work, that Drama classes can bring to our students.
Special shout out to the winning team, pictured below, with the play A Deluxe Recollection, written by Emma from Grade 11. A play about the heartbreak of reliving rejection, in Paris, as hosted by a fairy with a duster for a magic wand. Directed by Eliana (Gr.12), with performances by MacK (Gr. 11), Calbe (Gr.12), Oscar (Gr. 12) and Angela (Gr.7). Designers: Josie (Gr. 10) and Miki (Gr. 10). Technicians: Angies (Gr.10) and Rocky (Gr. 10). Producer: Mr. Thom Ferlisi.