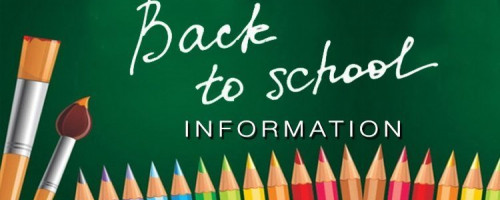 Less Than A Week Until School Starts!
The first day of school is just around the corner and we are excited to begin a new school year! Here are a few updates to pass along:
Uniforms
Please note that there will be no change to our uniforms this academic year. When we do proceed with the change to new uniforms, the old uniforms will be phased out over a reasonable period of time of one year.
Uniform Shop Hours: 08:15 to 12:00 and 14:00 to 15:35
North Wing To Serve As Main Hub
Effective immediately, the North Wing office will be the only public office for parents and guests. We ask that parents go to the North Wing office for admissions information, to pay tuition and other fees, as well as any general enquiries. The South Wing office will serve as an administrative area only.
Gibbon Access & Parent ID's
Gibbon access will be restored at 8am on Friday 28th August. Once access is restored families can check homeroom assignments and request new Parent ID Cards. Existing families can use their old ID cards until the end of September. Temporary IDs will be issued to new families by their homeroom teachers or you can request a temporary ID from the NW Main Office. For Gibbon support please email gibbonsupport@tis.edu.mo.
Reminder About Friday, August 28th
Grade 7-11 Orientation for new students to TIS (08:30- 12:30)
LOCATION: Learning Lab (RM2000, 2nd Floor, South Wing)
Grade 1-12 Classroom visit time for new and returning students (13:30 - 15:00)
Class List Locations
Class lists will be available on August 28th at the following locations in the school.
| | |
| --- | --- |
| Grade | Location of Class List |
| PK - SK | NW Foyer |
| Grade 1-6 | SW Foyer and Hallway |
| Grade 7-9 | Level 4 & 5 SW (Near Elevator) |
| Grade 10-12 | Level 4 & 5 NW (Facing Elevator) |
Orientation on August 31st
Grade 1 to Grade 12 (New and existing students - Regular School Hours - All Students are expected to attend - Uniform is optional on this day only.)
School Bus
Don't forget to apply for the school bus if applicable. Students need to reapply each year. Please click here for more information.
NB: No school bus for PK students until 14th September
Lunch Order Option
The September lunch order form is now available on our school website. For more information on lunch options at TIS please click here. Students on half day start up do not need to order lunch.
Future Bright Contact Information: tis@futurebrightgroup.com or +853 2899 0083 (TIS cannot connect you internally. You must call their number directly).
Homeroom Location Grade 6
Please note that Grade 6 homerooms have moved to the 3rd Floor North Wing (near Blackbox Theatre) for this academic year.
Photo Permission
TIS seeks parental permission before photographing or making any recordings of your child during the upcoming school year. Parents can update their privacy choice by logging onto Gibbon. Here are the guidelines on how to update your privacy choice.
If you have any questions, please contact the main office at 2853 3700.
即將開始新學年!
學校快將迎來開學的第一天,大家都很期待新學年的開始!學校現有以下事項與大家分享:
校服
請注意,學校不要求學生在本學年更換新校服。學校有一年時間讓學生更換/購買新校服時,把舊校服換掉。
校服部開放時間:上午08:15至中午12:00 以及 下午14:00至15:35
北翼作為對辦公室
自本學年開始,北翼辦公室將成為家長及訪客唯一的對外開放辦公室。家長可前往北翼辦公室進行以下服務:了解招生信息、支付學費及其他費用以及咨詢任何資訊。
南翼辦公室屬內部行政區域,不對外開放。

登入Gibbon系統及申請家長證
Gibbon系統將於8月28日上午8時重新向家長開放。屆時家長可透過系統查詢分班資訊及申請新學年家長證。舊生家庭可沿用舊證至9月底。班主任會在開學時為新生家庭提供臨時家長證,或新生家長可直接前往北翼辦公室申請。若有任何關於 Gibbon系統的問題,請電郵至gibbonsupport@tis.edu.mo查詢。
8月28日(週五)重要事項
初一至高三新生會 (08:30- 12:30)
位置:學習實驗室 (南翼2樓2000號室)
小一至高三 新舊生課室參觀 (13:30 - 15:00)
分班名單張貼位置
8月28日公佈分班名單,屆時名單會張貼在:
| | |
| --- | --- |
| 年級 | 分班名單張貼位置 |
| PK - SK | 北翼大堂 |
| 小一至小六 | 南翼大堂及走廊 |
| 初一至初三 | 南翼4,5樓近電梯 |
| 高一至高三 | 北翼4,5電梯對面牆 |
8月28日迎新日
小一至高三(新生及舊生 - 日常上課時間 - 請全體學生出席 - 學生當日可自由選擇穿著校服與否)
校巴
有需要校巴服務者,務必每年重新提出申請。請點擊以下網址查詢。
僅於9月14日開始為幼兒教育一年級 (PK) 學生提供校巴服務
訂購午餐
9月份的午餐訂購表格已上傳至校網。請點擊這裡查看餐單。半天制上學的學生無需訂購午餐。
佳景集團TIS食堂聯絡電郵:tis@futurebrightgroup.com 或電話+853 2899 0083(學校無法為家長接駁電話至食堂辦公室,請自行致電)。
小六課室位置更改
本學年開始,小六各班課室已移至北翼3樓(近黑盒劇場)。
肖像權允許
學校需要得到家長同意,方能在來年為 貴子女拍照或錄影在校生活狀況。請家長登入Gibbon系統更新學生的私隱選項。請點擊授予照片肖像權了解。
若有任何問題,直致電學校辦公室查詢2853 3700。