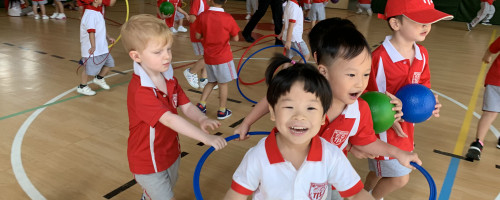 DSEJ Announce Kindergarten Classes To Resume
We are happy to announce our Kindergarten program will resume as originally scheduled.
DSEJ has announced all schools of infant, primary, secondary and special education in Macao are going to start successively in a staggered manner in early September.
(reference: https://www.facebook.com/100134480528306/posts/780306325844448/?d=n)
Below are the key dates for all our registered kindergarten students and parents.
Key Dates:
| | | |
| --- | --- | --- |
| Aug 31, Sep 1 | SK Meet the Teacher Interviews | |
| Aug 31, Sep 1 & 2 | PK/JK - Meet the Teacher Interviews | |
| Sep 2 | SK Classes Starts | |
| Sep 3 to 8 | PK/JK Classes Staggered Starts | |
Meet the Teacher Interviews
Homeroom teachers will contact parents by phone between August 26-28 to schedule a suitable time for the Meet the Teacher Interviews. If you haven't heard from the school by 28th August, please contact the school at +853 2853 3700 or email kelly.lei@tis.edu.mo.

During the interviews PK/JK families will learn about staggered entry times for September 3rd - 8th

During your scheduled interview time you and your child will also learn about classroom routines and expectations.
Uniform & Bussing
School uniforms are to be worn from September 2nd. For information on uniforms, see linked document.

Bussing for SK & JK will commence on September 2nd.

Bussing for PK will commence on September 14th.
We look forward to welcoming our new and returning kindergarten families back to TIS!

*Chinese Translation below (for reference only)*
澳門教育暨青年局宣佈幼兒教育階段復課
致親愛的家長:
我們很高興地宣佈幼兒教育階段將按原計劃開學。
教青局宣佈澳門所有教育階段包括幼稚園、中小學以及特殊教育,將於9月份錯峰開學。
(請參考網址:https://www.facebook.com/100134480528306/posts/780306325844448/?d=n)
請參閱以下已注冊的幼稚園學生及其家長有關開學的最要日期及事項。
重要日期:
| | | |
| --- | --- | --- |
| 8月31日-9月1日 | SK 學生家庭與班主任會面 | |
| 8月31日、9月1日、9月2日 PK/JK | 學生家庭與班主任會面 | |
| 9月2日 | SK 正式上課 | |
| 9月3日-9月8日 | PK/JK 分階段上課 | |
與班主任會面
班主任會在8月26日至28日期間以電話方式聯絡家長,相約會面時間。若 閣下在8月28日仍未收到學校通知,請主動致電+853 2853 3700或透過電郵kelly.lei@tis.edu.mo聯絡Ms. Kelly。

PK/JK 家庭與班主任會面時,會獲得9月3日至8日期間的分階段上課時間表。

在會面期間,班主任會向家長及學生講解課堂日程及課堂規矩。
校服及校巴服務
9月2日開始學生回校必須穿著適當校服。請點擊查看不同年級的校服規定。

SK 及 JK 學生校巴服務由9月2日開始。

PK 學生校巴服務將於9月14日開始。
觀迎新生及舊生回到TIS大家庭!