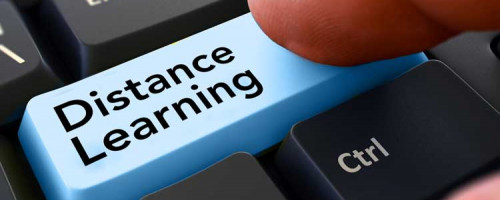 Distance Learning Program - School Year 2020/2021
Dear Parents,
The start of school is around the corner and I want to welcome you to the school year 2020/2021. We are looking forward to having everyone back on campus. However, in light of the COVID-19 pandemic development, we anticipate Macao's border to remain closed to foreigners in September and thereby preventing some of our students from attending school on campus. As such, TIS is offering a Distance Learning Program for parents who wish to continue their academic progress for their child(ren) who will be outside of Macao in September.
Distance Learning Program
The Distance Learning Program aims to provide continuous education for students who are temporarily overseas but are planning to come back to Macao. Distance learning is different from online learning. As the teachers will be working with the majority of their students on campus, they will not be able to offer individual online learning. However, they will ensure that the student is keeping pace with the regular class and completing the necessary work. This would be similar to pre-COVID days when students would have an extended absence due to an illness. The class teacher will be responsible for coordinating with the student and we will also have a dedicated teacher to help coordinate all of the Distance Learning students. A Kindergarten Distance Learning Program will be designed specifically to accommodate our younger students.
How to Enroll
If you would like to register your child in the Kindergarten or Primary Distance Learning Program, please contact Elementary Principal Mary-Anne Jasinski via email at maryanne.jasinski@tis.edu.mo. For enrollment in the Secondary Distance Learning Program, please email Secondary Principal Lorne Schmidt at lorne.schmidt@tis.edu.mo.
Fees for Distance Learning
The program will be offered at a discounted tuition rate. Kindergarten and Primary Distance Learning will be offered at 50% of the regular tuition level and Secondary Distance Learning will be offered at 75% of the regular tuition level. For families who decide to enroll their child in the program at the discounted fee but who have already paid the regular tuition, the balance will be transferred to the 2nd term of school fees.
As border circumstances change and overseas students are coming back to Macao, tuition rates will be adjusted to full tuition rate starting when the student starts coming back on campus. For families who ultimately decide to stay overseas, TIS will refund the tuition based on our withdrawal policy.
Family Friendly Program For Kindergarten
In addition to Distance Learning, TIS is also offering a Family Friendly Program which will focus on childcare and age appropriate activities rather than on content instruction. It will be offered at 50% of the regular tuition level. Students will continue to learn socialization skills. Family Friendly sessions will be offered in the mornings and will be run by the student's homeroom teacher. If you are interested in having your child participate in the Family Friendly program, please register here. Parents are required to fill out a student health declaration form before their child can participate in the Family Friendly program.
Seat Security
Some parents may choose not to participate in Distance Learning and may have made other arrangements such as attending a local school. For those parents who wish only to hold a spot for the student due to their oversea circumstances, parents are welcome to pay the deposit by August 28, 2020 to ensure the seat will be reserved for when the student is back in Macao and cleared for attending school.
As we embark on the journey to recovery, we will make sure we are attending to the needs and concerns of our TIS community locally and internationally. If you have any questions or concerns, please feel free to reach out to me or any of the school principals.
Sincerely,
Howard Stribbell, Head of School
2020/2021學年遠程學習計劃
親愛的家長:
藉開學在即之際,本人歡迎各位來到2020/2021學年。我們期待著大家回到校園。然而,鑑於新型冠狀病毒(COVID-19)疫情的發展,我們預計澳門的邊境在9月份將繼續對外國人關閉,從而導致部分學生無法重回校園上課。因此,TIS為置身澳門以外的學生提供遠程學習計劃,以便他們能繼續學業。
遠程學習計劃
遠程學習計劃旨在為那些暫時在海外但計劃返回澳門的學生提供繼續教育。遠程學習不同於在線學習。由於教師將在校園內為大多數學生面授課程,因此他們將無法為個別學生在線授課。但是,教師將確保遠程學習的學生與班級學習進度一致,並完成必要的功課。這類似於在疫情爆發之前,學生因病而長時間缺席所得到的學校支援。班主任將負責與學生溝通協調,我們也會有專門的老師幫助協調所有遠程學習的學生。我們也會為低齡的學生專門設計「幼兒園遠程學習計劃」。
如何報名
若閣下想為子女報名「幼兒園或小學遠程學習計劃」,請通過電子郵件maryanne.jasinski@tis.edu.mo與小學部校長Mary-Anne Jasinski聯繫。要報名「中學遠程學習計劃」,請發送電郵至lorne.schmidt@tis.edu.mo聯繫中學部校長Lorne Schmidt。
遠程學習費用
該計劃將有學費優惠。幼兒園和小學遠程學習將按照常規學費的50%收費,中學遠程學習將按照常規學費的75%收費。已支付了常規學費的家庭,若決定讓子女參與遠程學習計劃,折扣後的學費餘額將作為第二學期學費。
隨著邊境情況的變化以及海外學生陸續返回澳門,我校將從學生返回校園開始收取全額學費。對於最終決定留在海外的家庭,我校將根據退學政策退還學費。
幼兒園家庭友好計劃
除遠程學習外,TIS還提供了「家庭友好計劃」,該計劃的重點在幼兒保育以及適合其年齡的活動,而不是教學指導。學生將繼續學習社交技巧。「家庭友好計劃」課程將在上午進行,並將由學生的班主任老師負責。如果閣下有興趣讓子女參加「家庭友好計劃」,請在此處報名。在參加「家庭友好計劃」之前,家長必須先填寫學生健康聲明表。「家庭友好計劃」學習將按照常規學費的50%收費。
保留學位
部分家長可能會選擇不參加遠程學習,並可能作出了其他安排,例如讓子女在當地上學。如果家長只是想為子女保留一個學位名額,歡迎在2020年8月28日之前繳付留位費,以確保學生回澳後能保留學位辦理入學手續。
在邁向重回正軌的道路上,我們確保照顧在本地和世界各地TIS大家庭的相關需求和顧慮 。如果您有任何問題,請隨時聯繫我或任何一位校長聯繫。
此致
Howard Stribbell, 校長